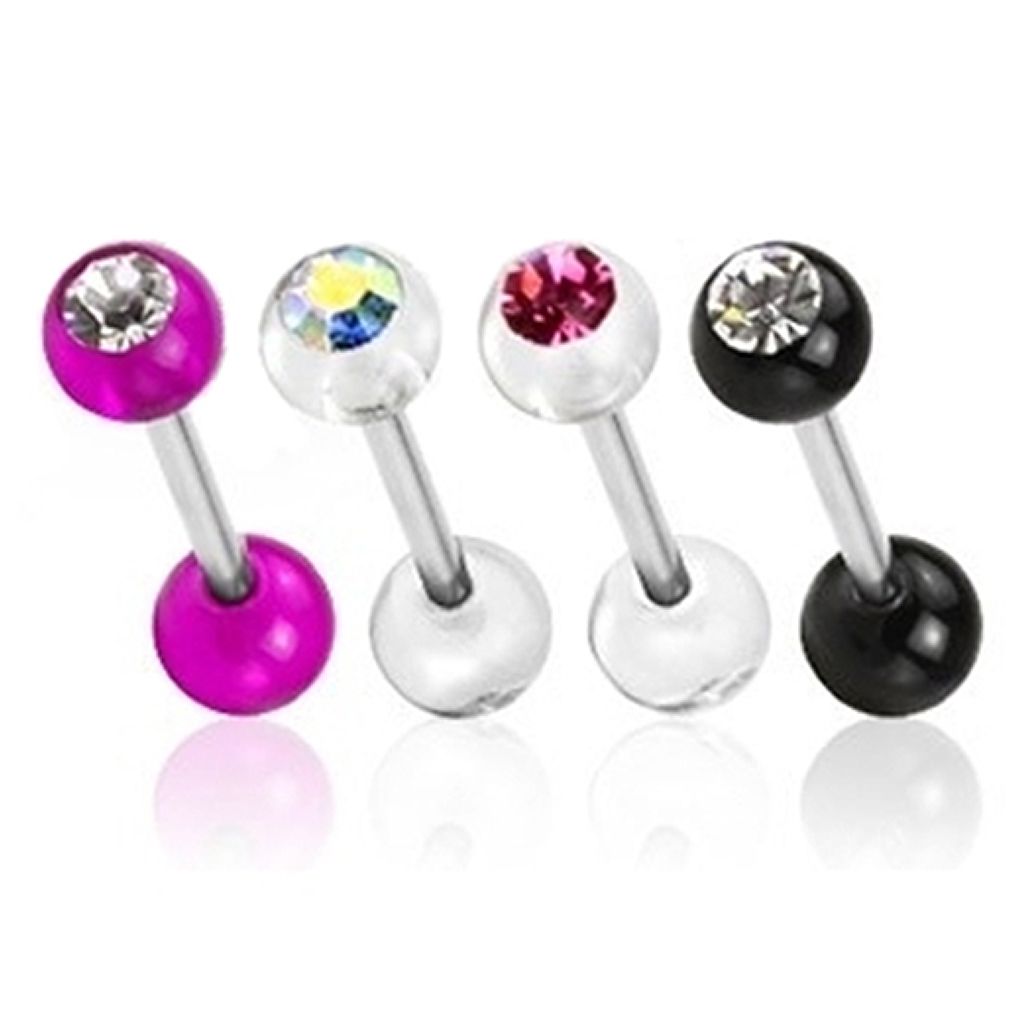 4 tongue barbells with bezel-set stone
100 days return
100 day right to return for unopened merchandise
Same day handling
Orders that come in before 18:00 (Monday - Friday) will be sent out on the same day.
Name: 4 tongue barbells with bezel-set stone
SKU: Tongue-Pack-14
Thread thickness: 1.6 mm
Lock type: External thread
Type: Piercing set
Placement: Tongue
Length: 16 mm.
Material: Surgical steel
Color: Mixed
Bottom ball: 6 mm.
Number of items: 4 pieces
Design: Simple
Great pack of four tongue barbells for a very reasonable price. The barbells are made of surgical steel and have the standard length of 5/8" (16 mm). The balls are made of acrylic, and except for the black model, all of them have a beautiful transparent look.
All the tongue barbells have a bezel-set stone on the top ball, making them look irresistible. The bezel-set stones of the lilac and black pieces are white. One of the white models has a stone in aurora borealis or rainbow-like colors, while the other one has a stone in bright pink.
As you can see, this is an excellent set of four magnificent tongue barbells for a very reasonable price, so hurry up and buy it now :-)
Reviews
Jednoduché a dokonalé!

Není mnoho co říci o tomto produktu. Pokud jste líní jako já a nechce se Vám vybírat mezi několika modely, pak jsou tyto piercingy fenomenální.

Written by rybíz obecný

Simplu și perfect!

Nu sunt atât de multe de spus despre acest produs. Perfect pentru cineva ca mine, care nu s-ar deranja să caute și să comande diverse modele si design-uri, deci îmi vine foarte ușor cu un astfel de pachet simplu.

Written by Drumaru'

Lihtsad ja ilusad

Pole palju öelda. Mulle ei meeldi tellida igasuguseid erinevaid disaine. Lihtne komplekt ja hea kvaliteet.

Written by tuutu

Egyszerű és nagyszerű

Nem eleht sokat mondani róla. Nekem tökéletes, mert nem szeretek sok féle piercing rendelésével bajlódni, úgyhogy egy ilyen egyszerű csomag tökéletes.

Written by Asfaltarbejderen

Simple et parfait!

Il n'y a pas grand chose à dire sur ce produit. Parfait pour quelqu'un comme moi, qui n'aime pas les gros tracas de commander différents modèles et designs, c'est facile avec un package aussi simple.

Written by travailleur d'asphalte

Simpelt og perfekt!

Der er sq ikke så meget at sige om dette produkt. Perfekt til sådan en som mig, der ikke gider det store bøvl med at bestille forskellige modeller og design, så er det sq let med sådan en simpel pakke.

Written by Asfaltarbejderen