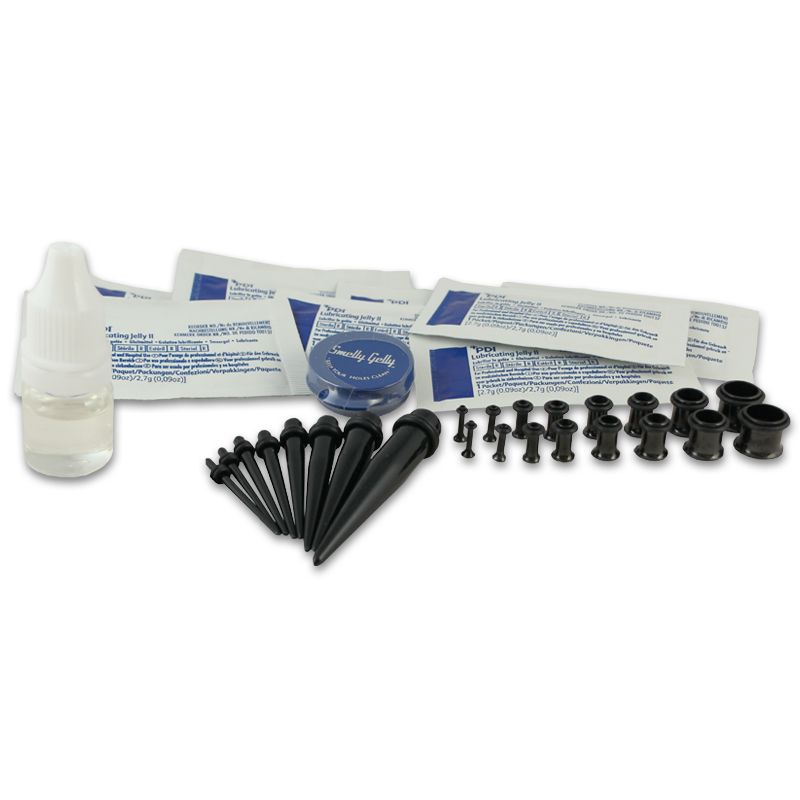 Complete kit for stretching
100 days return
100 day right to return for unopened merchandise
Same day handling
Orders that come in before 18:00 (Monday - Friday) will be sent out on the same day.
Name: Complete kit for stretching
SKU: Stretching-Kit-Basic
Lock type: O-Ring
Type: Stretching set
Stretch diameter: Set of different sizes
Color: Black
Number of items: 36 pieces
If you want to start ear stretching or gauges, we have a fabulous offer for you. This is a complete kit to start piercing gauges, with everything you need during the process. When you begin stretching, you will have to start with a taper, just a little bigger than the regular piercing. When your piercing adapts to the new gauge, you will have to start using a new taper that is a little thicker. You can slowly continue this process until you reach the gauge size you desire. This complete kit includes tapers from 14 to 00 gauge (1.6 mm to 10 mm).
The tapers in this kit are black and made of acrylic. Some people prefer wearing tapers in their piercings as they are stretching, but others think they're not very comfortable to wear every day.
In that case, you don't need to worry, because this kit includes two tunnels in each size that you can wear once you've stretched a piercing enough with a taper. In short, you can wear tunnels during resting times.
This kit includes a total of 16 tunnels, two in each of 8 different sizes. These tunnels are black but made of surgical steel. They have a simple design, and they're effortless to wear. They also have an o-ring in elastic rubber that prevents them from falling out.
Apart from the tapers and the tunnels, this set also contains products for gauge aftercare that you will need to use during the process. On the one hand, it includes 10 lube units for your gauges. Once you decide to stretch a piercing one more size, you should open one of these sachets and apply this gel on your piercing and on the taper that you will use. This way, you will make the process much more comfortable.
On the other hand, if you feel that your piercings get smelly, don't worry, it's quite common. That's why this set also includes Smelly Gelly, which is an excellent product to get rid of unpleasant smells. Smelly Gelly is a very resistant product so you can use it for a long time.
Last but not least, this kit also includes jojoba oil, an excellent product for gauges. Jojoba oil has an antiseptic effect, so it's especially recommended to use on stretched piercings with redness, pain, or irritation.
In all, this kit for gauge starters contains:
8 black tapers in acrylic and 8 pairs (16 units) of tunnels in surgical steel with o-rings, in the following gauges: 14, 12, 8, 6, 4, 2, 0, and 00 gauge (1.6 mm, 2 mm, 3 mm, 4 mm, 5 mm, 6 mm, 8 mm, 10 mm).
10 units of lubricant for stretchings
1 unit of Smelly Gelly
1 unit of jojoba oil
With all these 36 products in one complete kit, you will have everything you need to start piercing stretching or gauges.
Reviews
Fantastisk som startskit

Super tilfreds med pakken indtil nu, nemme at bruge og ok kvalitet. Alt i alt en super god pakke som start. :-)

Written by Chelle

Ļoti ātra piegāde

Pasūtījums atnāca nedēļas laikā. Produkts atbilst visām manām cerībām. Varu ieteikt pirkt šajā veikalā

Written by Helēna

Labs komplekts

Tas ir ļoti labs starta komplekts visiem tiem, kas vēlas nodarboties ar stiepšanu. Es arī pasūtīju sev tādu un pastāvīgi izmantoju to. Visām rotaslietām ir lieliska kvalitāte:)

Written by Edvards

Vienkāršs pasūtījums un ātra piegāde

Labas kvalitātes rotaslietu komplekts, labs serviss :-) Noteikti pasūtīšu vēlreiz!

Written by Lauris

Super sada

Fantastická souprava pro začátečníky, je to moje první sada. :-) Tunely jsou velmi pohodlné a celá sada je velmi kvalitní :)

Written by Thor

Výborný nákup

Produkt je takový, jak je popsaný, výborný nákup :-) Není to naposledy, co nakupuji na tomto e-shopu.

Written by Fran