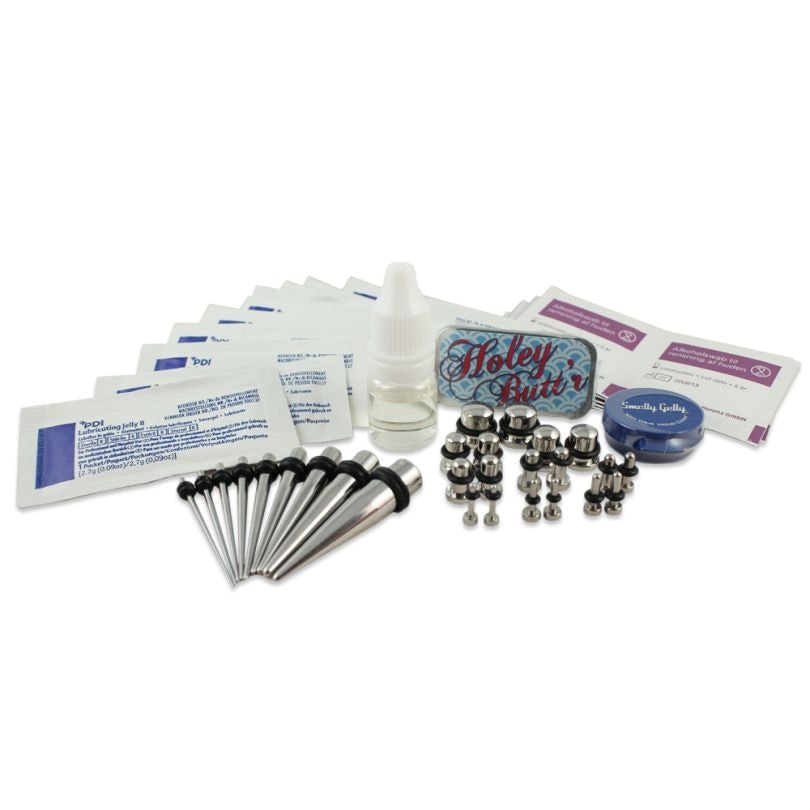 Complete stretching kit with all accessories
100 days return
100 day right to return for unopened merchandise
Same day handling
Orders that come in before 18:00 (Monday - Friday) will be sent out on the same day.
Product Name: Complete stretching kit with all accessories
SKU: Stretching-Kit-Steel
Lock type: O-Ring
Type: Stretching set
Stretch diameter: Set of different sizes
Material: Surgical steel
Color: Silver
Number of items: 50 pieces
Are you looking for the perfect kit to start stretching? You have found the perfect pack with all you need during the process.
This set consists of 50 products in total, and it's designed to wear a new plug as soon as your piercing is stretched. This way you won't need to wear tapers during all the process. It also includes products for gauge care, to use before, during, and after the stretching. This set is perfect for people who want to start piercing stretching, so it's the perfect present if you know someone who wants to have gauges.
The kit consists of nine tapers that can stretch a standard piercing up to 00 gauge (10 mm). At the same time, it also includes two plugs or tunnels in each of the nine sizes. These plugs are designed to wear right after you achieve the desired gauge. When you put a plug on your piercing, you can place its o-ring at the back to prevent it from falling out. Both tapers and plugs are made of surgical steel, a very comfortable material to wear.
This kit also includes 10 disinfection wipes. Before stretching your piercing one more size, wash your hands and your ear with soap. Next, disinfect your fingers, ear and then your taper and plugs with a disinfection wipe. Let them air dry and apply the lube in your piercing hole, taper, and plugs. Place the taper in your piercing hole and put one of the two plugs of the same size immediately after. Repeat this process in the other ear if you want to stretch it too.
Lastly, wash the area to cleanse lube excess and let it air dry. During the time until the next gauge, you can use Holey Butt'r and tea tree oil. These will soften the skin around the piercing and get rid of all the bacteria that might be present.
To avoid unpleasant smells that may occur during stretchings, you can use the super effective Smelly Gelly.
This complete stretching kit includes:
1 x Taper in surgical steel, in the following gauge sizes: 14, 12, 10, 8, 6, 4, 2, 0, and 00 gauge (1.6 mm, 2.0 mm, 2.5 mm, 3.0 mm, 4.0 mm, 5.0 mm, 6.0 mm, 8.0 mm, and 10.0 mm).
2 x Plugs for beginners with o-rings, in each of the following gauge sizes: 14, 12, 10, 8, 6, 4, 2, 0, and 00 gauge (1.6 mm, 2.0 mm, 2.5 mm, 3.0 mm, 4.0 mm, 5.0 mm, 6.0 mm, 8.0 mm, 10.0 mm).
Lastly, this kit also includes:
10 x Disinfection wipes
10 x Stretching lube
1 x Holey Butt'r
1 x Jojoba oil
1 X Smelly Gelly
This kit has a total of 50 products. All of them are packed individually, ensuring the hygienic conditions of each product until they are used.
This kit includes absolutely everything you need if you want to gauge or stretch your piercings up to 00 gauge (10 mm).
Reviews
There are no reviews yet! Click button on the right to submit one!