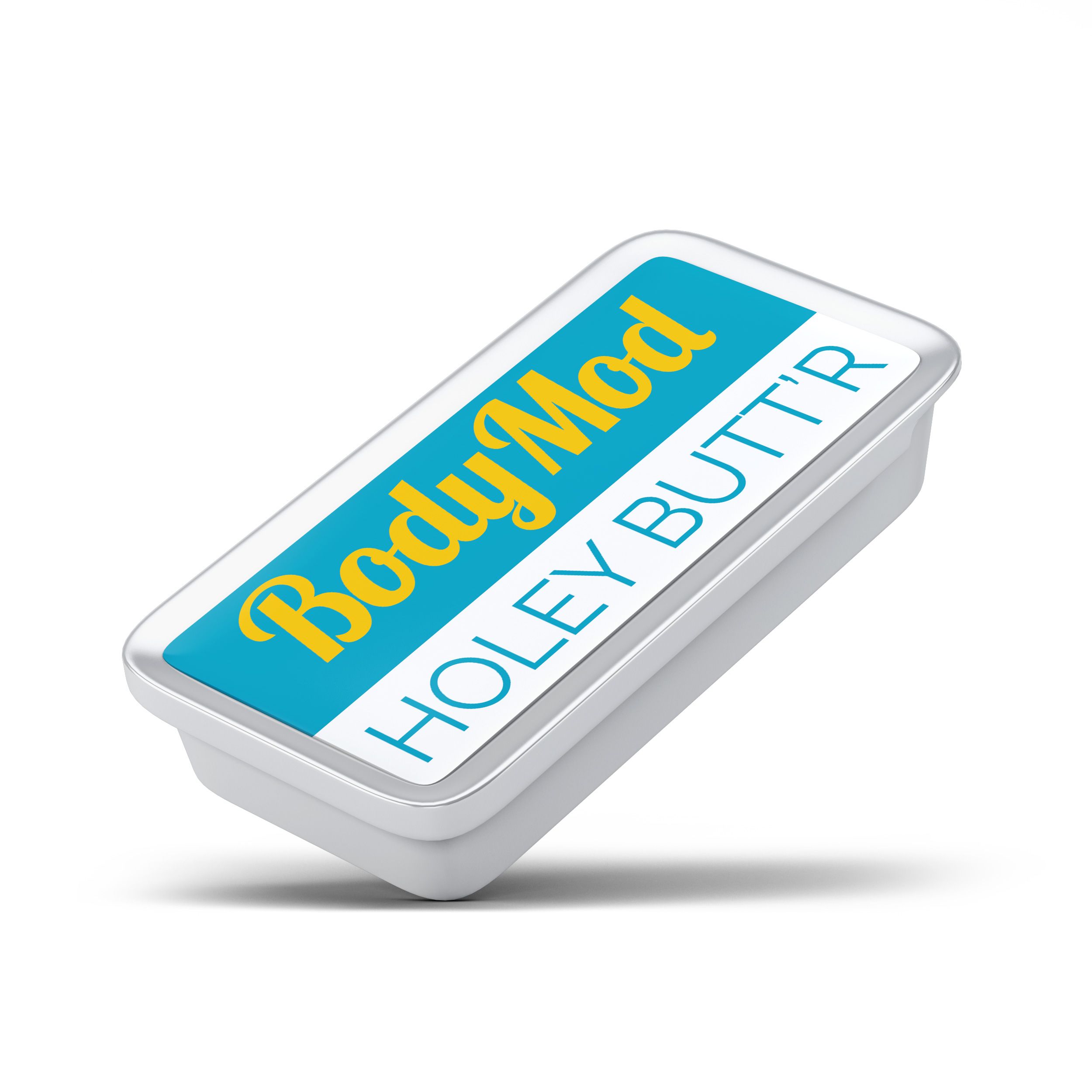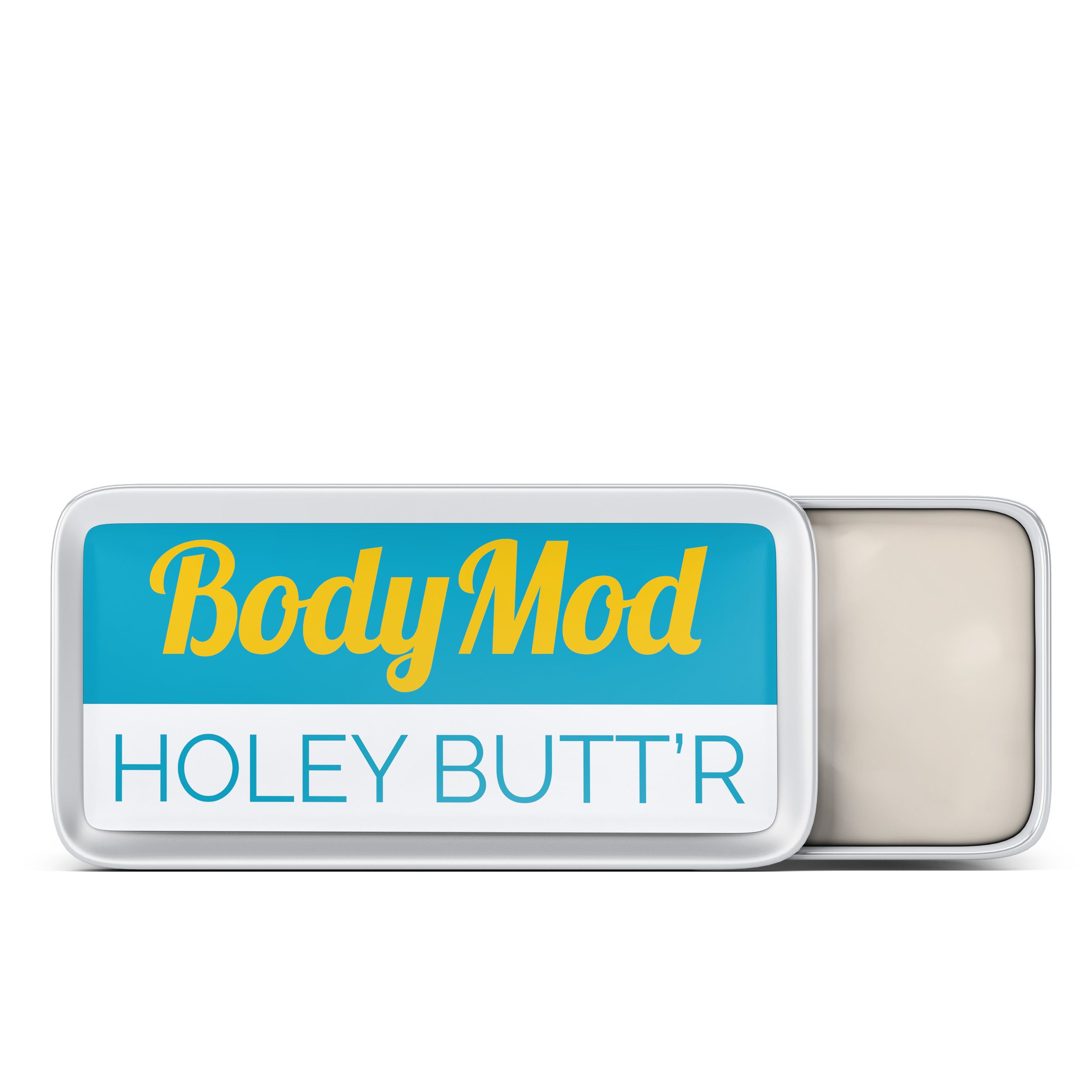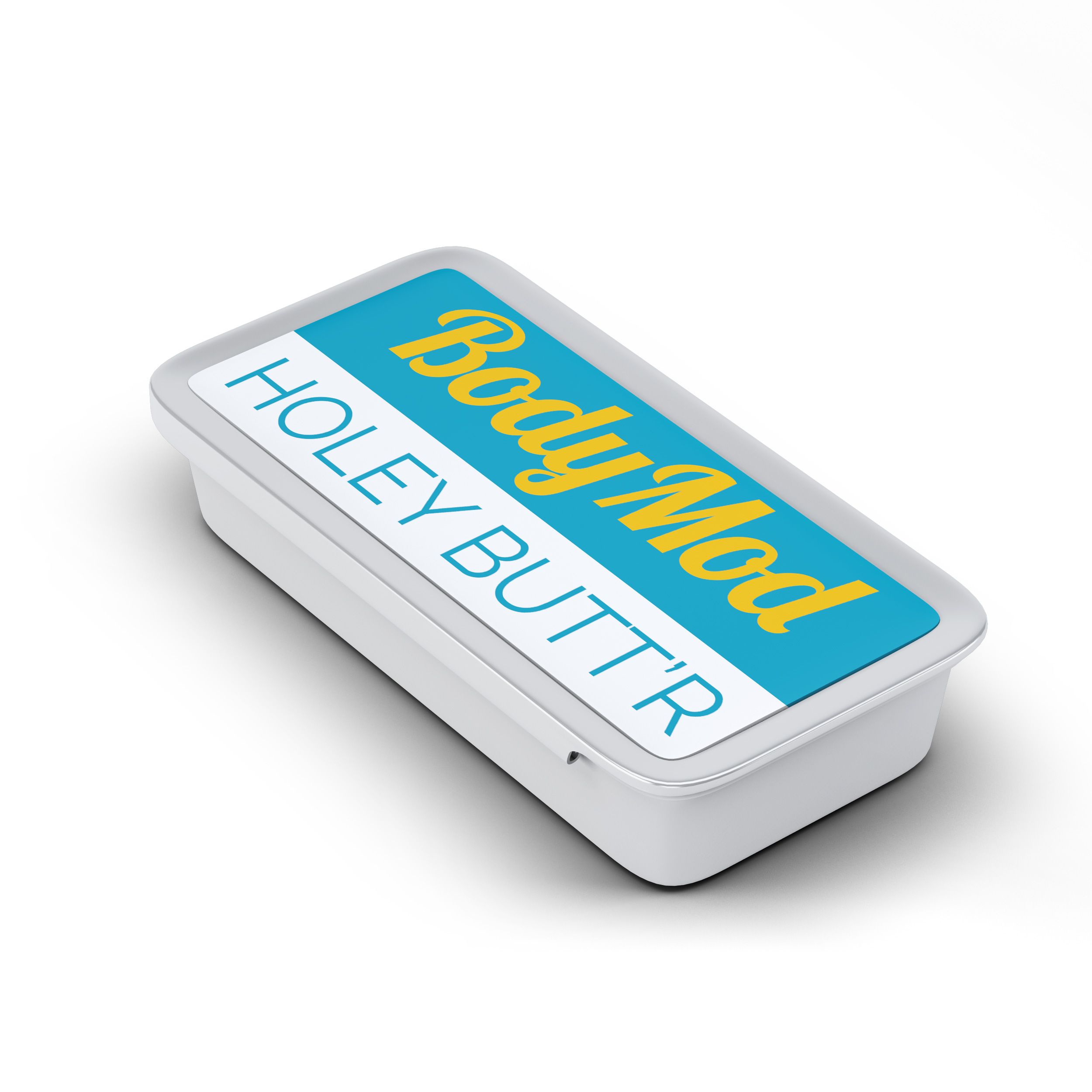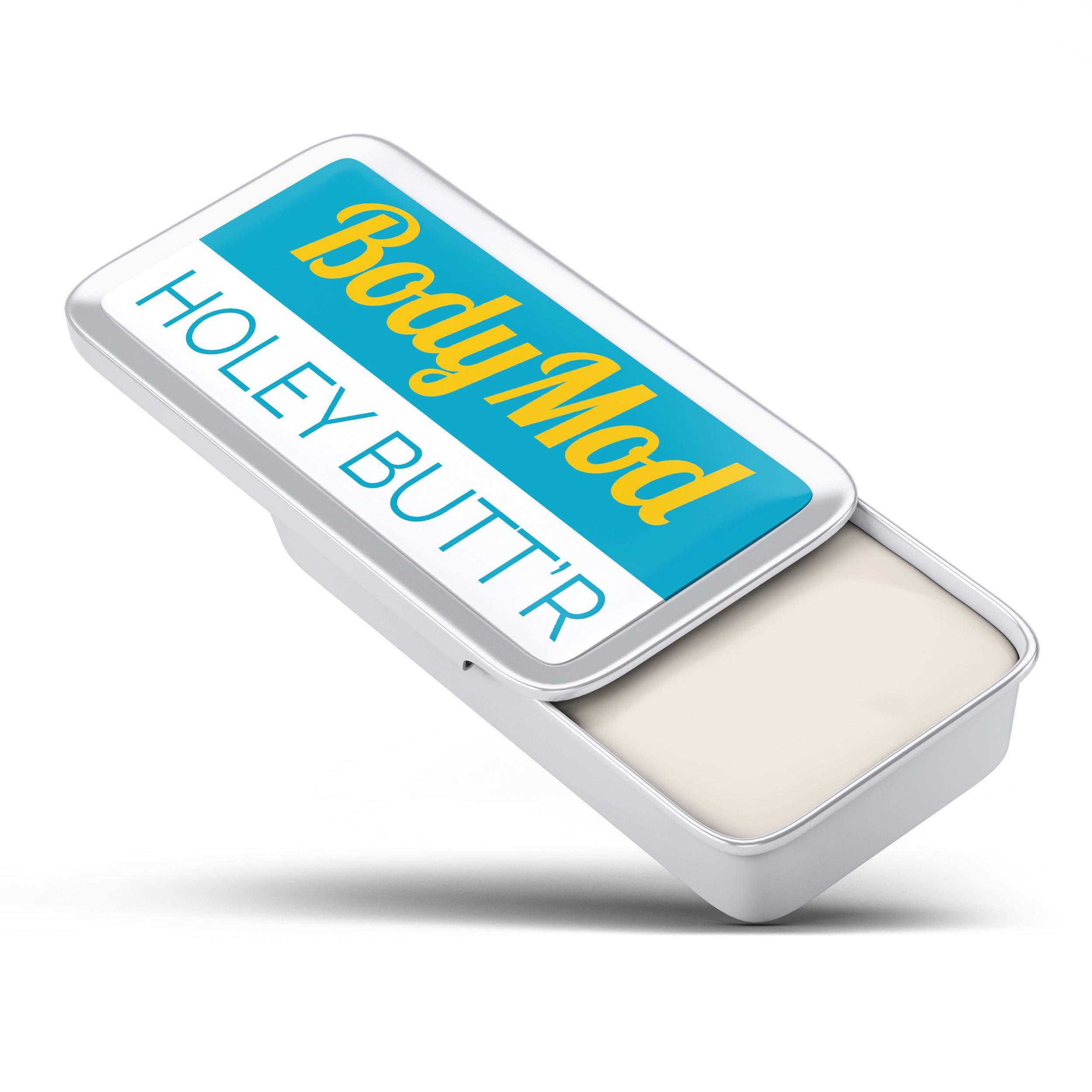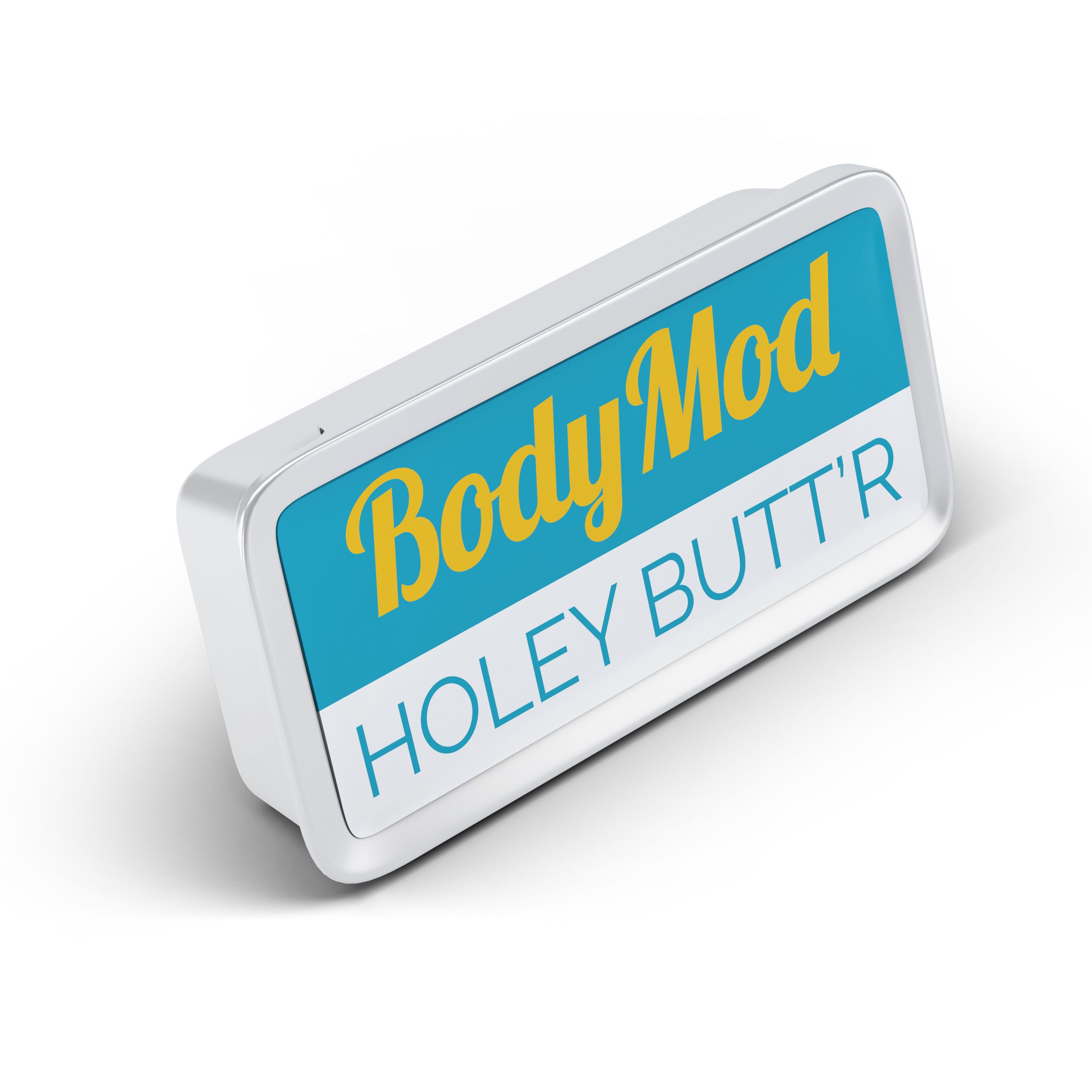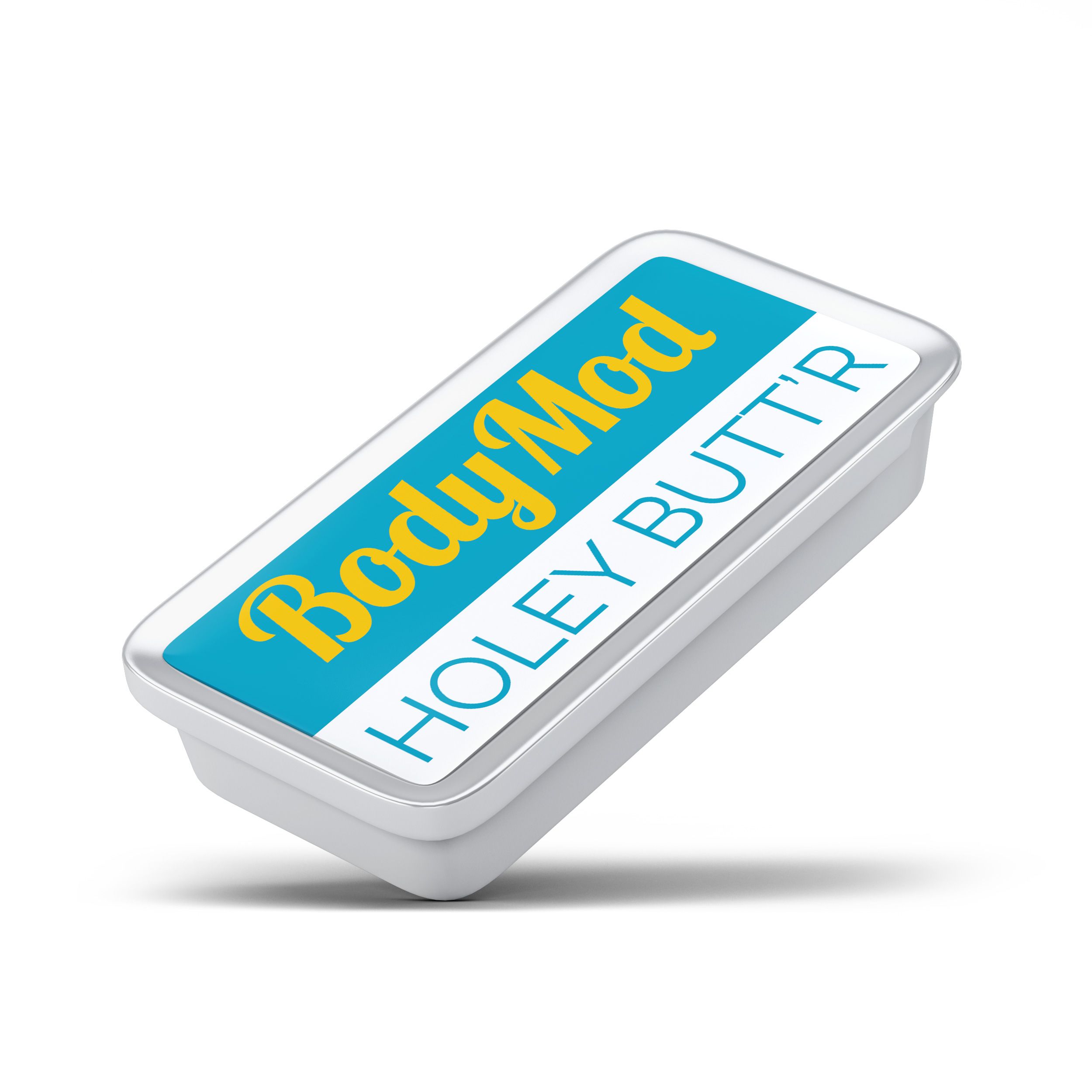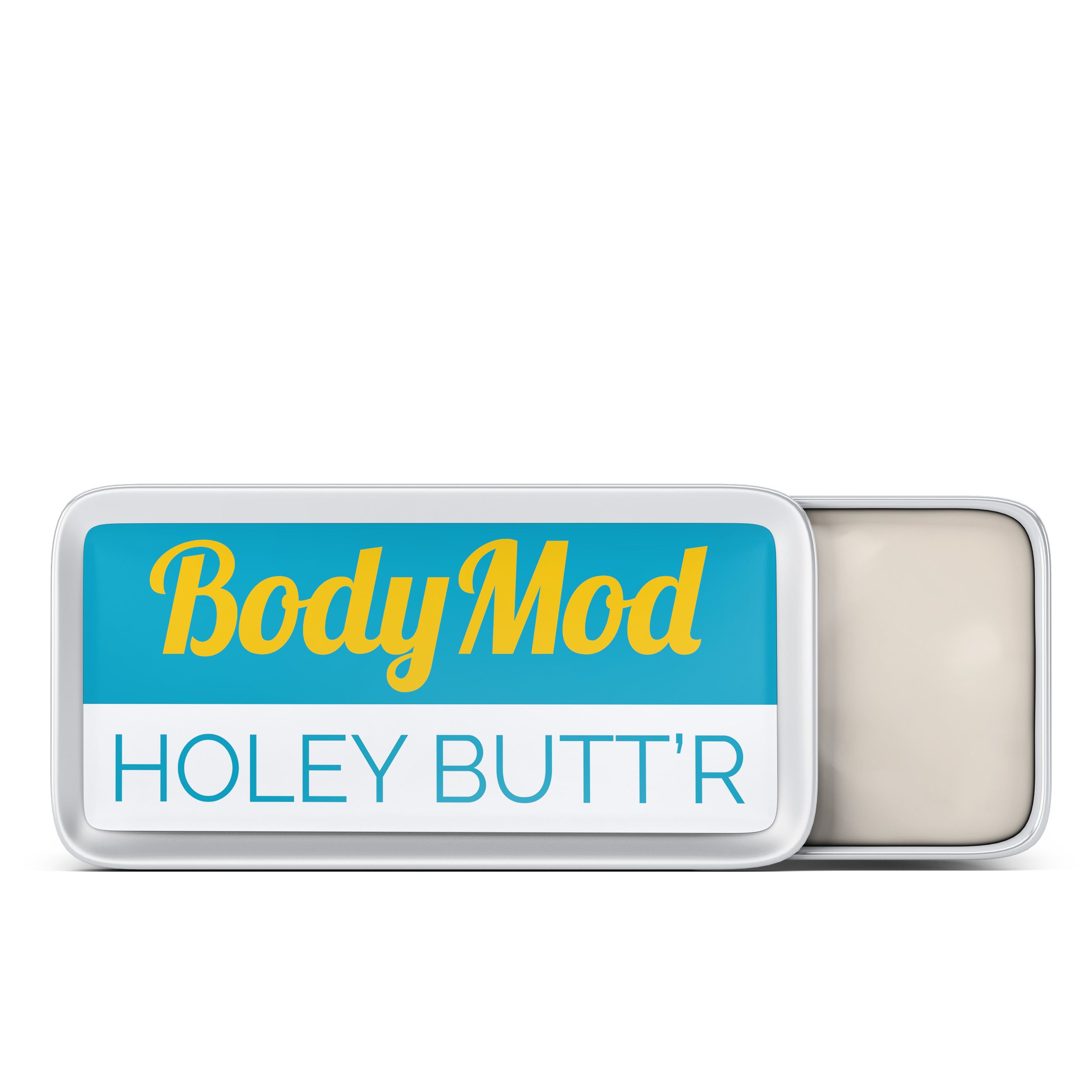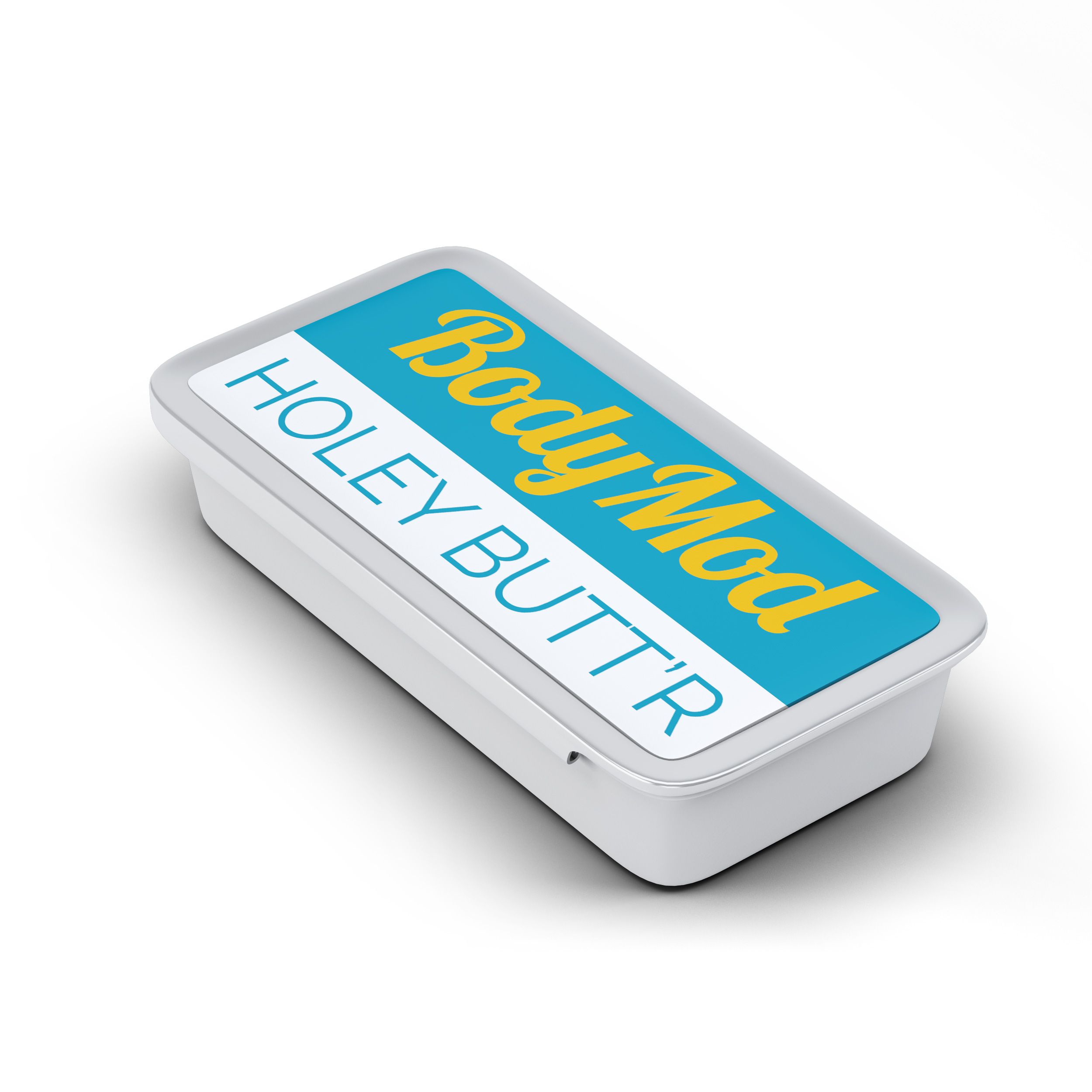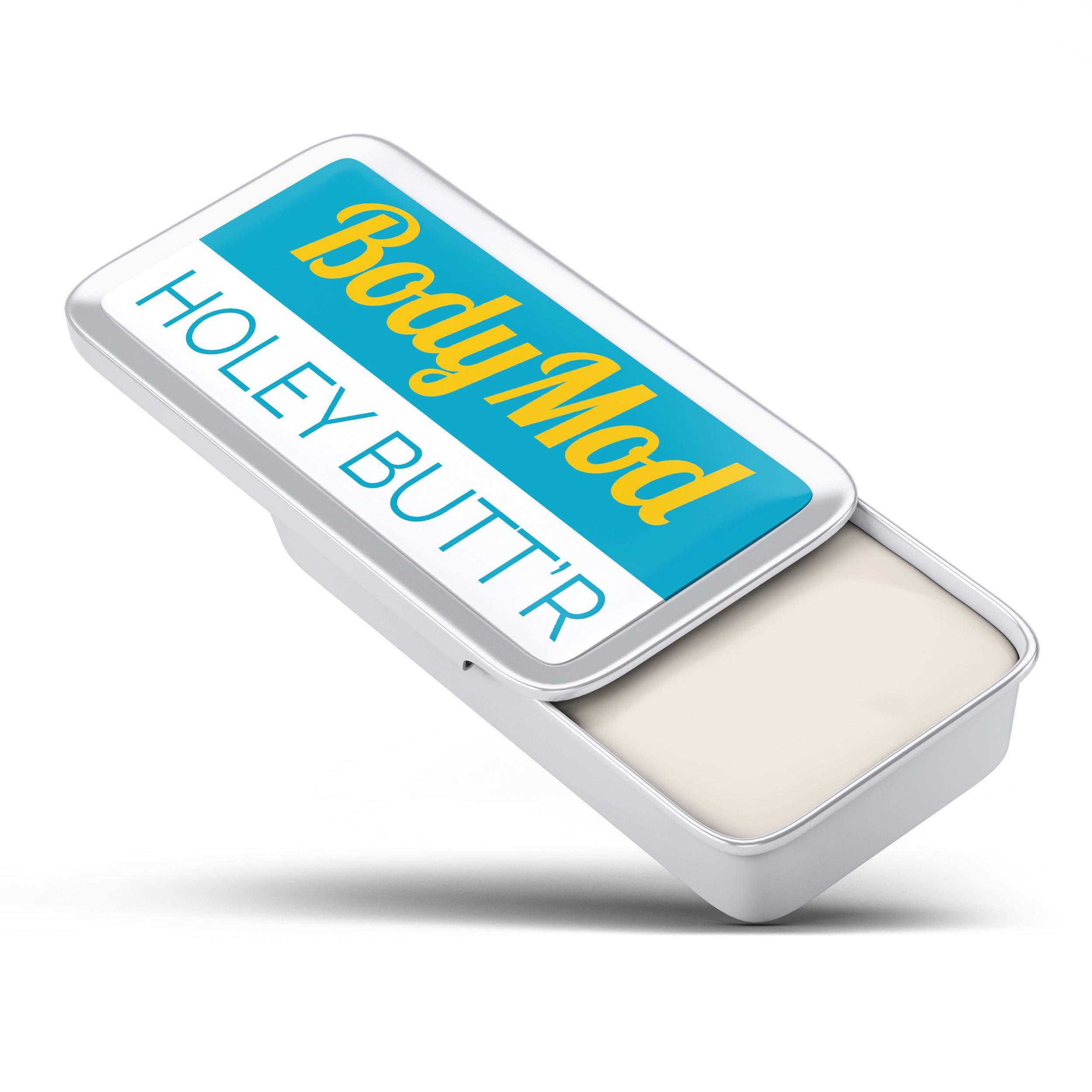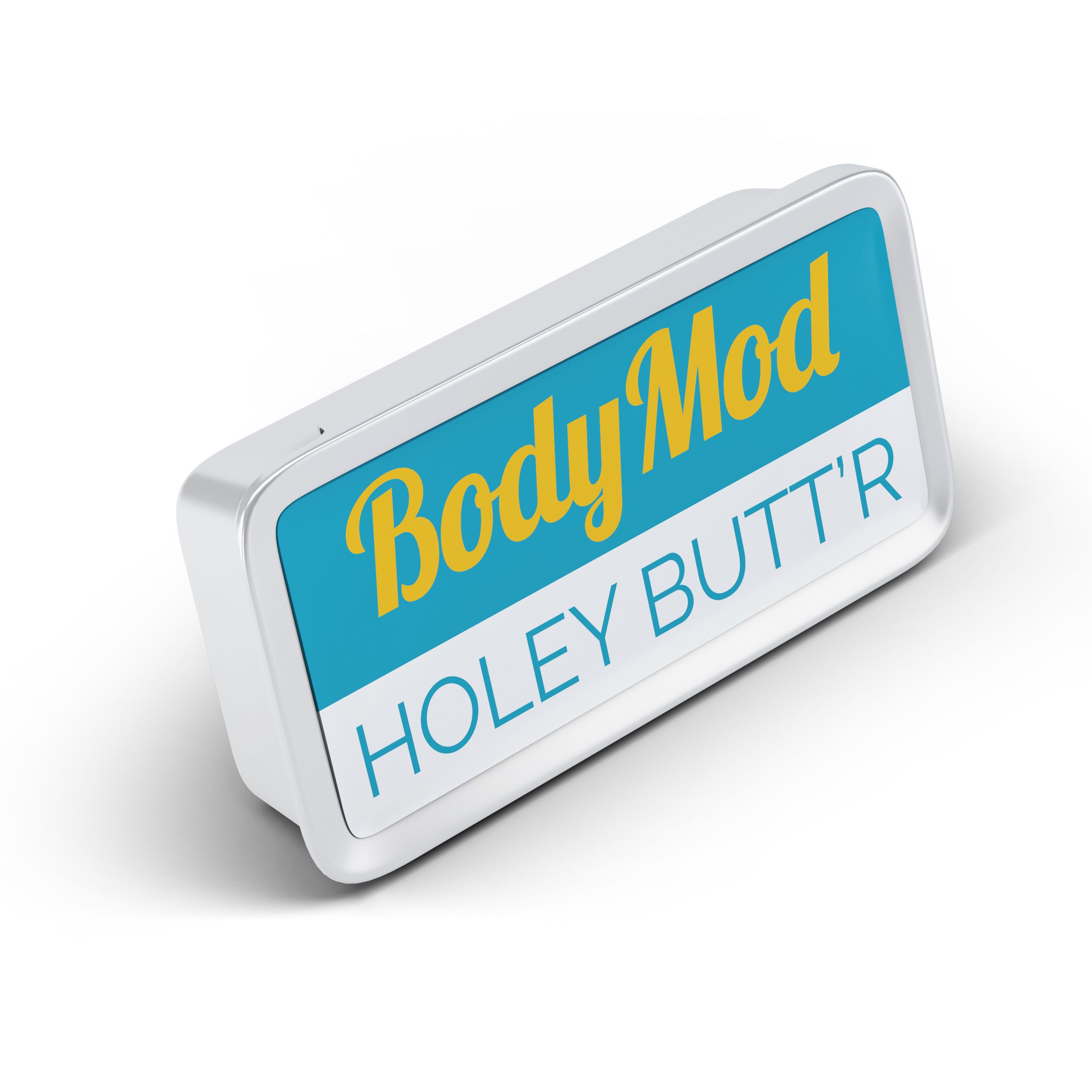 Holey Butt'r - Aftercare for stretching or gauges
100 days return
100 day right to return for unopened merchandise
Same day handling
Orders that come in before 18:00 (Monday - Friday) will be sent out on the same day.
Product Name: Holey Butt'r - Aftercare for stretching or gauges
SKU: Care-Holey-Buttr
Type: Aftercare product
Content: 10 g.
Number of items: 1 piece
Holey Butt'r is one of the best products for ear gauges or stretchings. Try it and you will see that everything people say about this product are good comments.
Now you can get one of these boxes with its wonderful butter.
Holey Butt'r is a vegan healing treatment product that will help you keep your stretched piercings or gauges in good shape. It contains a natural blend of different products and moisturizing ingredients in the same product.
Ingredients are:
Pongamia Pinnata (Seed oil)
Simmondsia Chinensis (Jojoba tree seeds oil)
Glycine soja and wax
Euphorbia Cerifera (Candelilla wax creates a film that allows the skin to reconstruct and prevents it from drying out).
Studies show that jojoba seed oil is an efficient antiseptic, anti-fungal, antibacterial, anti-virus, and a dermatologic agent. This oil has been used for hundreds of years to avoid skin irritation: eczema, psoriasis, rashes, burns, and acne. It's rich in saturated acids and glycerides and has high healing power, that's why it's used as a base in many skin products.
Jojoba oil is a liquid wax that can be mistaken for the oil that skin produces. Jojoba is rich in vitamin E, which makes the healing process stronger. Besides, it stops your piercing from looking greasy.
Soja wax contains very high levels of lecithin, sterolin, vitamins E and B and other anti-oxidants. It allows the skin to keep moisturized and prepares it for dry environments.
If you are concerned about products that have animal elements, this is your vegan product.
How to use Holey Butt'r:
Make sure your hands and the pierced area are completely clean.
Apply a small amount of Holey Butt'r in your gauge or stretching 2 or 3 times a day.
Wash your hands immediately after using Holey Butt'r.
The box has a measure of 1" (2.5 cm) on the shortest side, 2" (5 cm) on the longest side and a height of 7/16" (1.1 cm). It contains approximately 0.35 oz (10 grams) of the product.
It should be kept in a dark and cool place to keep it from sweating. That's why we recommend that you don't take it with you everywhere in your pockets, because it may get warm. It smells just like fresh plants :)
Remember this product is not designed to lubricate when you want to use a taper to stretch your piercing. It's designed to be used once your piercing has been stretched.
This product is also perfect to heal your piercing after a blow-out.
Reviews
yeah!!

Jsem moc spokojená, že jsem si tento produkt koupila! Používám ho už několik měsíců a moje uši ho milují, navíc je veganský :-O)

Written by Tamara

Opravdu geniální produkt

Moje uši jsou mnohem pružnější a bez zápachu... :-)

Written by Martin J

Holey Butt'r - Brutální!

Holey Butt'r používám už něco přes týden na moje uši roztažené na 6mm, a už jsou pružnější, super a bez zápachu :-) Dávám 5 hvězdiček, protože mým uším moc pomohl :-) Díky BodyMod

Written by Jakub N.

Naprosto spokojená

O tomto produktu můžu říct jen to nejlepší. I když jsem o něm nikdy předtím neslyšela, viděla jsem ho u vás na webu, a teď když už jsem ho použila, tak ho fakt doporučuji. Úžasný pro moje roztažené uši :-) Ještě trochu zapáchaji (ale málo v porovnání s předtím, myslím, že jsem trochu závislá :-)))....

Written by Emilie M

Zázrak!

Oplatí se do Holey Butt'r investovat..je velmi efektivní a dlouho vydrží :-D Mám dírk velikosti 8mm, a každé dva týdny je pečlivě umývám a aplikuju tuto mast...Dírku jsou pružné a nezapáchají :-D

Written by Monča R

super

Chtěl jsem si uši roztáhnout na 2mm. Bylo to rychlé a snadné. Těžko říct, jaký vliv na to měla tato mast, protože nevím, jak by to šlo bez ní, ale aspoň nemám nic proti :-) Určitě tento produkt ještě použiju :-)

Written by Sabrina