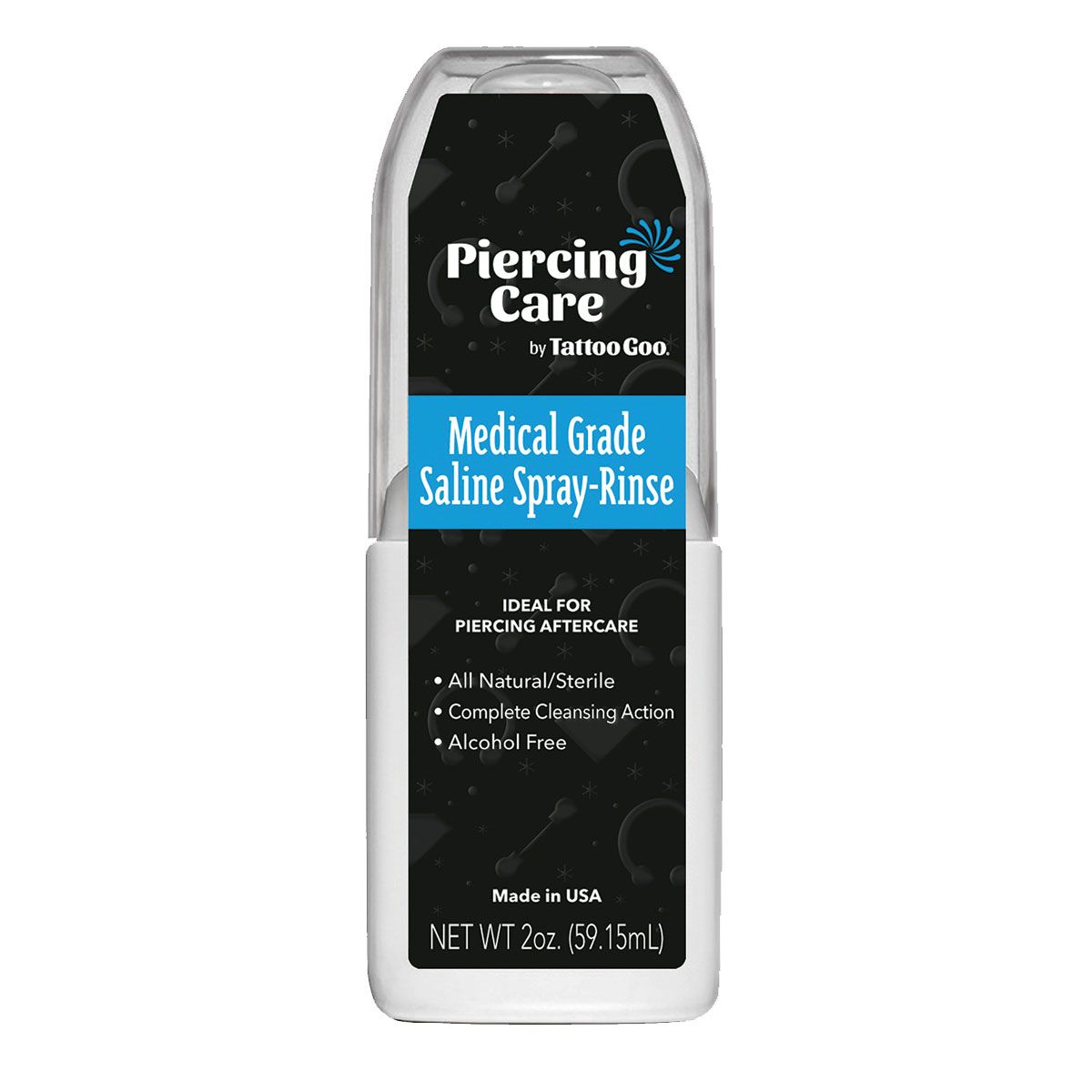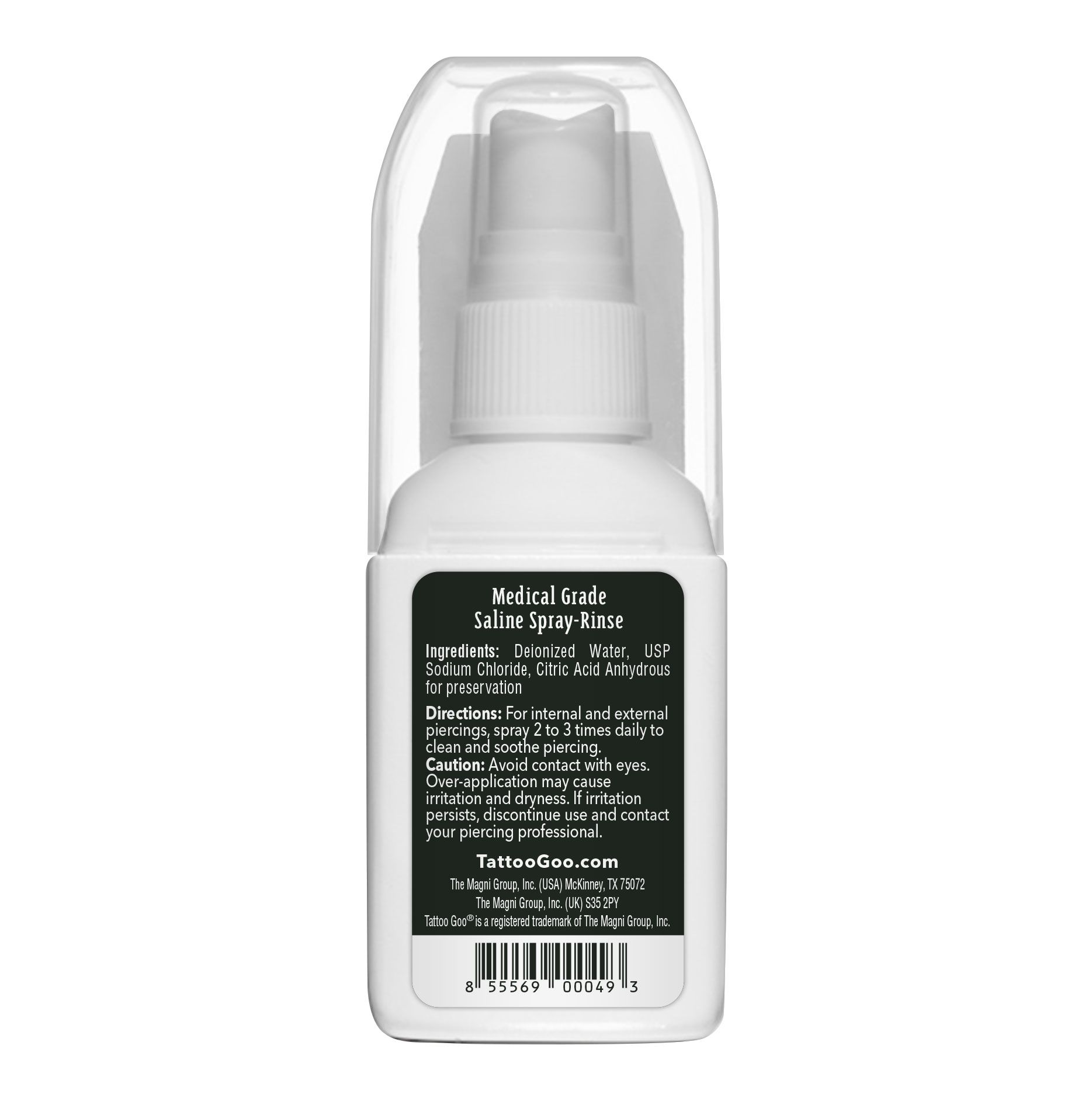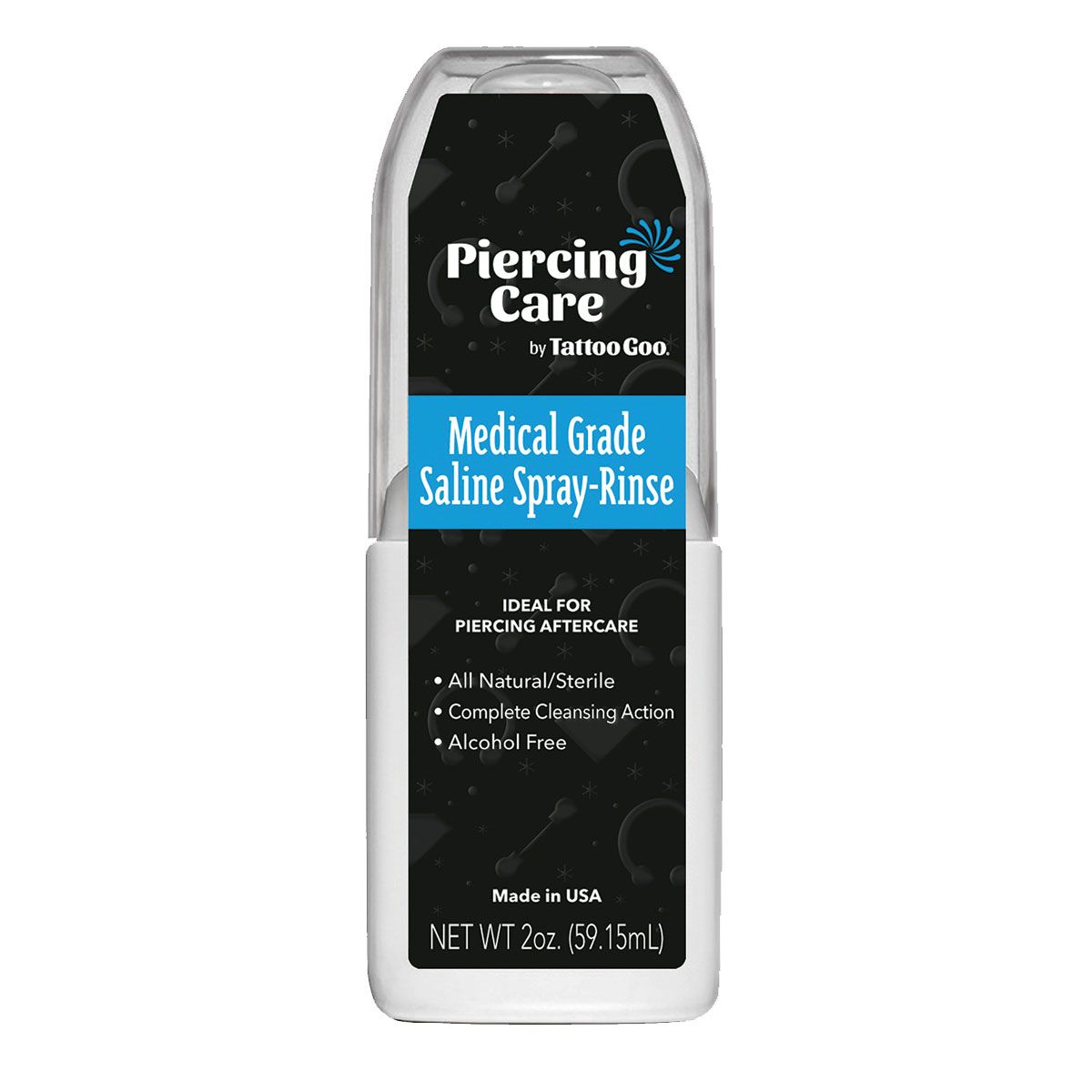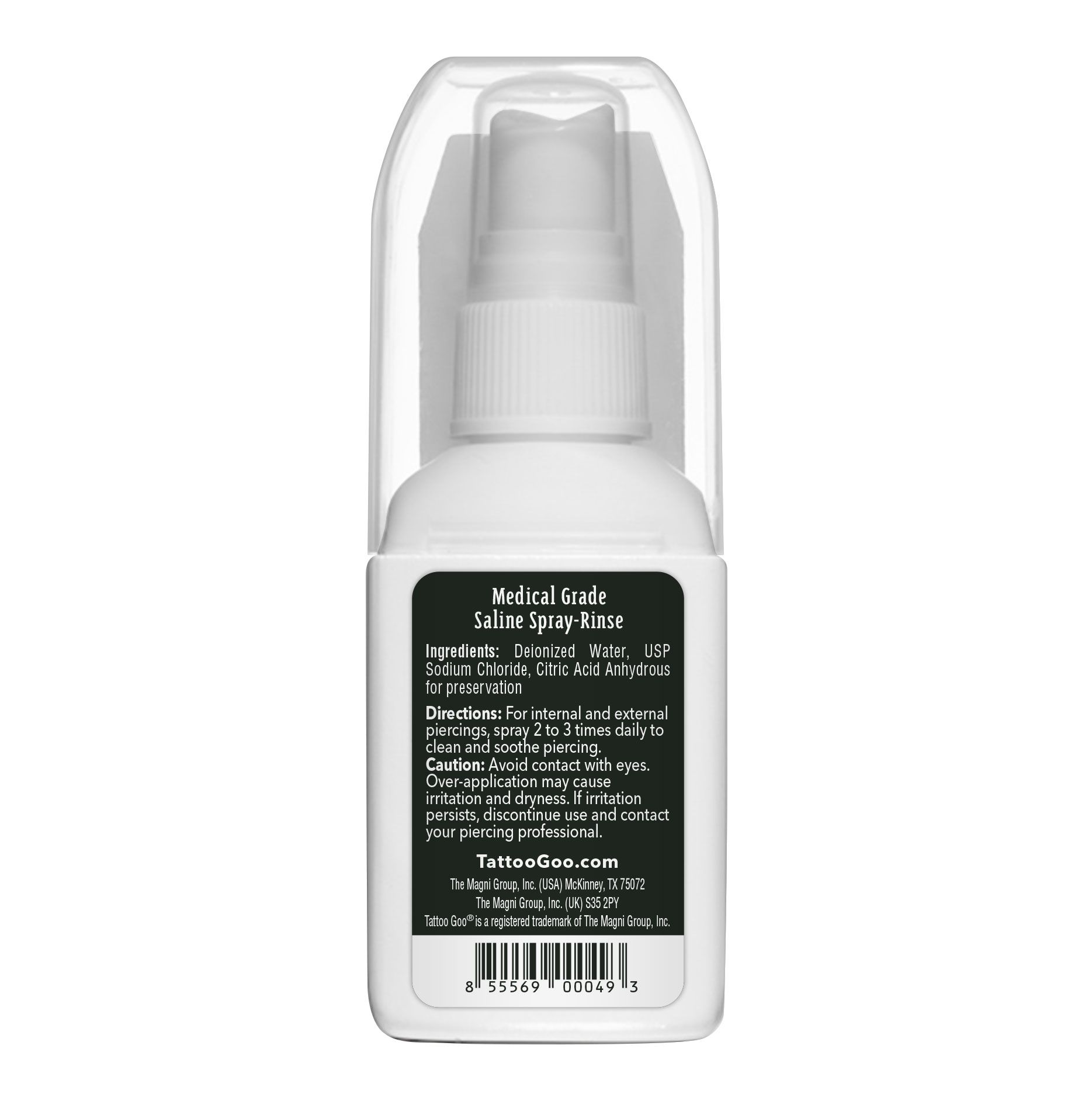 100 days return
100 day right to return for unopened merchandise
Same day handling
Orders that come in before 18:00 (Monday - Friday) will be sent out on the same day.
Name: Isotonic saline
SKU: Care-Saline
Type: Aftercare product
Content: 59 ml.
Number of items: 1 piece
A medical isotonic saline spray is perfect for you if you want to take care of your new piercing. Saline solution is perfect for speeding up the healing process, and it doesn't cause any side effects that could harm you. This product is sold in many different containers, but this bottle is one of the best products if not the best. Here is why.
Blue Wave of Tattoo Goo comes in a very convenient container. Unlike others where you need to use another bowl to be able to apply it, Blue Wave has a spray that lets you apply it directly, and the unused product doesn't go to waste.
This saline spray is sterilized and in perfect conditions. You won't need to make a homemade solution once a week anymore, because this bottle is ideal for applying in your piercings and it saves a lot of headaches.
The only thing you need to keep in mind is to avoid contact with your eyes.
The measurements of this bottle are approximately 4 1/2 x 1 5/32" (11.7 x 3 cm), and it contains 2 ounces (59 ml) of sterilized saline solution.
How to use saline rinse?
Isotonic saline solution is always used together with another product to cleanse your piercing. When the piercing is new, it's recommended to cleanse it twice a day. For example, in the morning and evening, apart from a daily shower.
You must cleanse your piercing once a day with a neutral PH soap or chlorhexidine and isotonic saline water.
The soap or chlorhexidine removes bacteria and allows your body to take care of healing only. Isotonic saline water must be used after washing the wound for a faster healing process. Isotonic saline water will not only speed up the healing process but will also minimize the possibility of having an unwanted ugly scar.
This isotonic saline solution must be used mornings and evenings, while the soap and chlorhexidine must be used once a day.
Keep in mind that you should not take your piercing jewels off when cleaning them. Jewels must be kept on your body during the healing process.
What kind of piercings should I use isotonic saline solution for?
Isotonic saline spray-rinse can be used in most body piercings, for example, belly button, nipple, ear piercings, dermal, nose, lip, and intimate piercings.
Yes, the list can be longer. So if you're tired of making salt solutions and want a very comfortable and practical option, add this product to your cart.
If, instead, you want to prepare it at home, read how to make a homemade isotonic saline solution.
Reviews
Only one issue

Works how a saline should work, but I dislike that it contains citric acid as a preservative. Preservatives are not needed in piercing salines, and heighten the risk eventually getting a bad reaction. Still a better choice since the saline sprays in pharmacies simply cost too much for such a small amount of saline and only last 3 days. Used these on my earlobe piercings for 12 weeks now, twice daily, have not had any bad issues. No infections, no swelling, nothing. Has kept my piercings very hygienic. Only after 12 weeks it began to mildly sting/dry my skin a little. Have since begun to use Tattoo Goo's antibacterial soap once in the morning, and this saline once in the evening. Prefer use is to use this saline twice daily. Spray on both sides of the piercing (do NOT move piercing unless it is loose and not stuck to your wound) and let it dry for 5 to 10 minutes. Then rinse in the shower with warm running water to help rinse out gunk, dirt, etc. and it also helps prevent the saline from drying you out. In the evening, soak piercing with a cup of water after using saline. If like me, the piercing takes more than 3 months to heal and you develop dryness from saline overuse, then use Tattoo Goo's soap once in the morning and saline once in the evening. This saline also had an instant soothing/cooling affect every time I used it when my piercings were going through a grumpy phase.

Written by Foreigner

Top!

Ik raad dit product iedereen aan die net een piercing heeft laten zetten (of wil laten zetten) of waarbij de piercing is gaan irriteren/ontsteken. Ik heb zelf ruim 3 weken geleden een helix- en navelpiercing laten zetten, welke toch geïrriteerd bleven, ondanks het gebruik van de reinigingsspray die ik mee had gekregen. Daarom, op basis van de positieve reviews op dit product, deze zoutoplossing gekocht. Ik gebruik het 1 keer per dag. Voor mijn navelpiercing ga ik liggen, breng het dan aan en blijf 5 minuten liggen zodat het goed intrekt. Met beide piercings gaat het nu (na gebruik van ongeveer een week) heel goed. Dit product is dus z'n geld meer dan waard!

Written by Annelies

Strādā kā vajag

Strādā kā aprakstīts mājaslapā. Iesaku visiem, kam ir jauns pīrsings

Written by Pēteris

Superīgs proukts

Funkcionē 100% tā kā vajadzētu

Written by Katrīna

Velmi dobrá

Recomiendo usar este producto porque tenía una hinchazón en mi piercing en el ombligo y se ha curado. Měla jsem zánět piercingu v pupíku, a vyzkoušela jsem tuto mořskou vodu a zánět byl pryč. Můžu jenom doporučit.

Written by Ella G.

Perfektní sprej

Tento produkt funguje moc dobře, ale nejlepší na tom je ten sprej. Můj piercing se léčí mnohem lépe teď, když používám mořskou vodu. Doporučuji.

Written by Martin S.