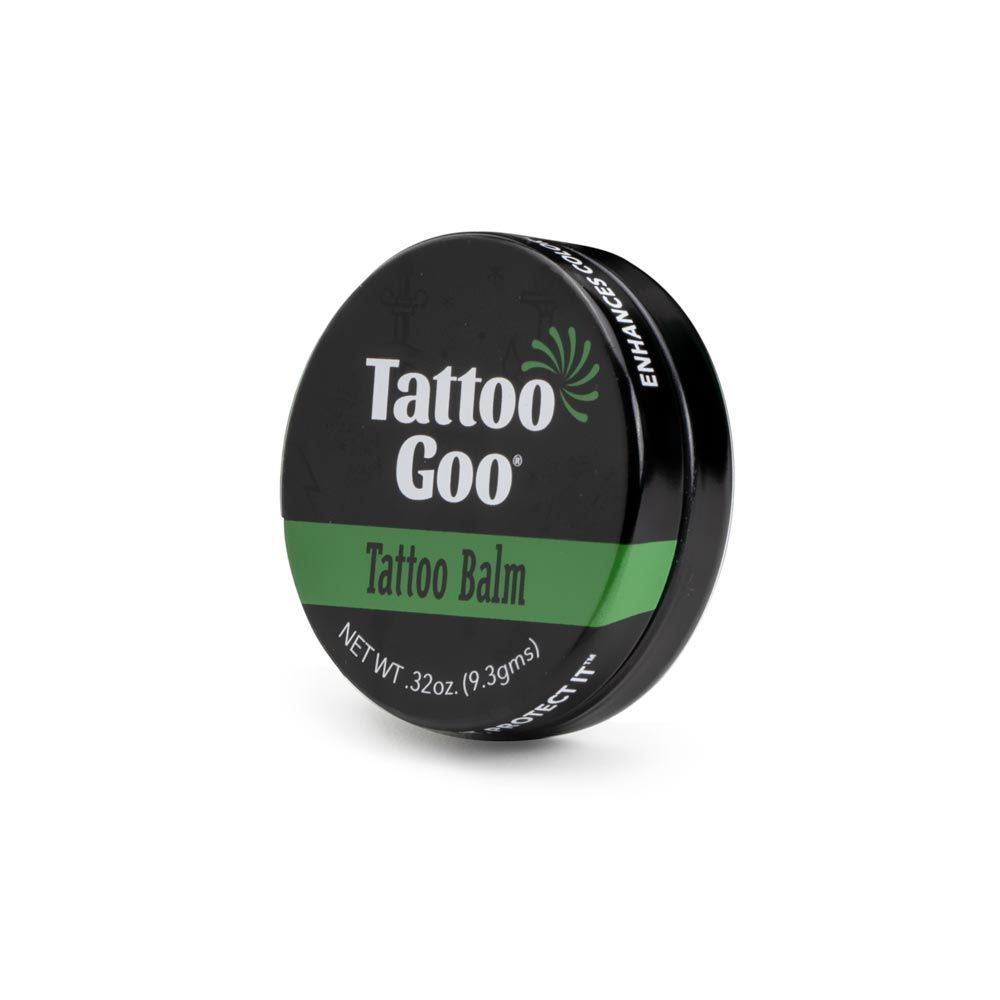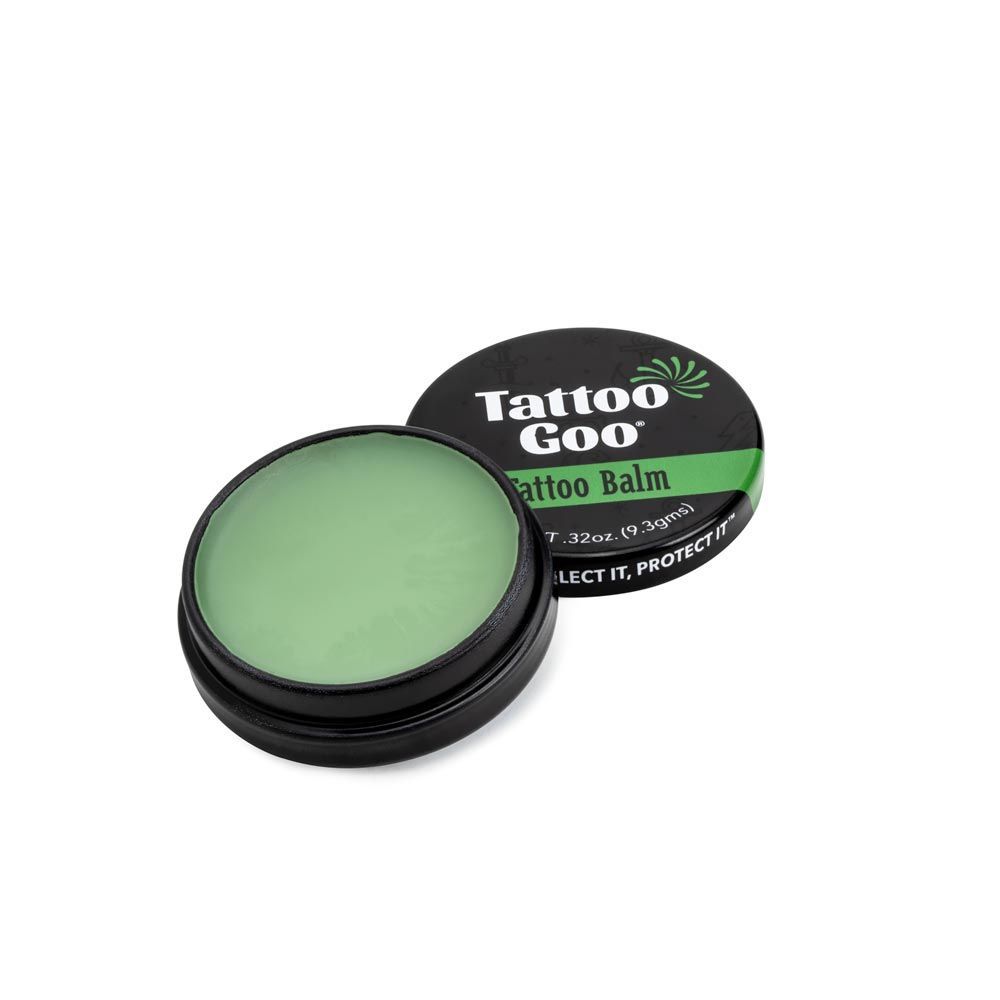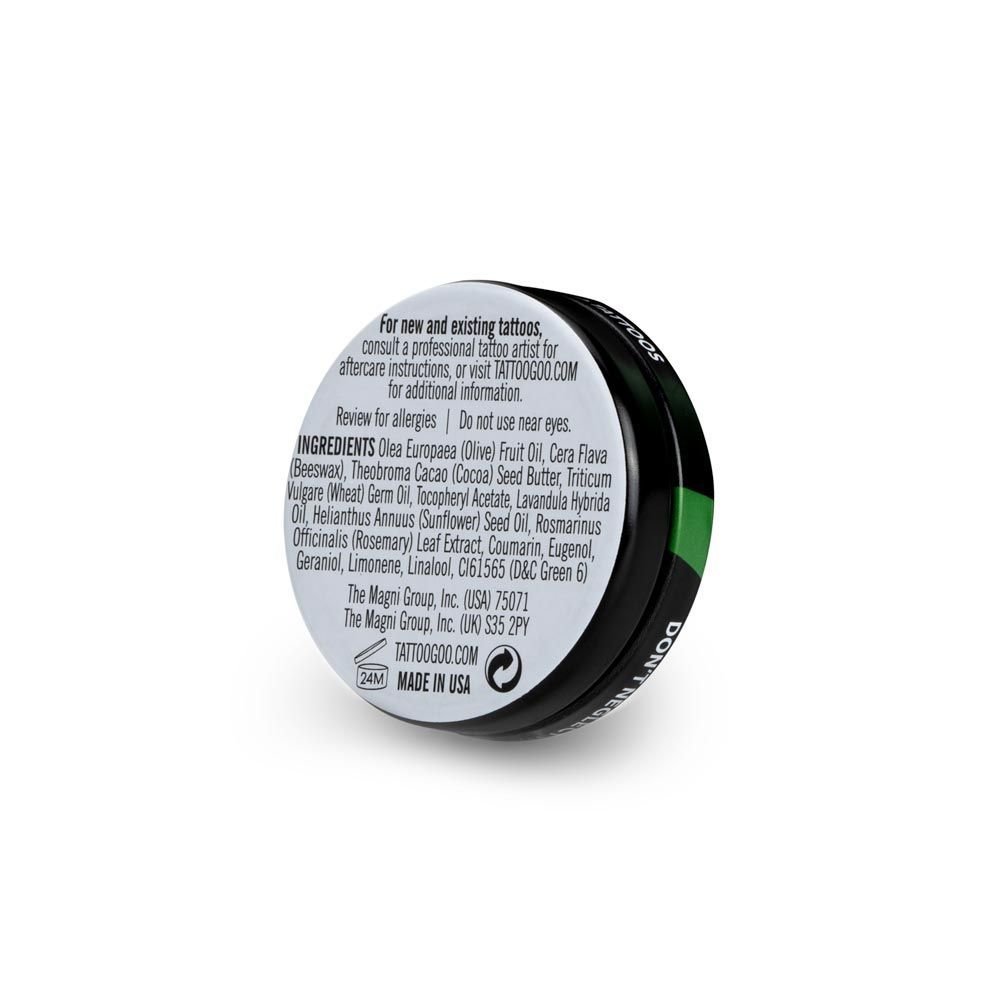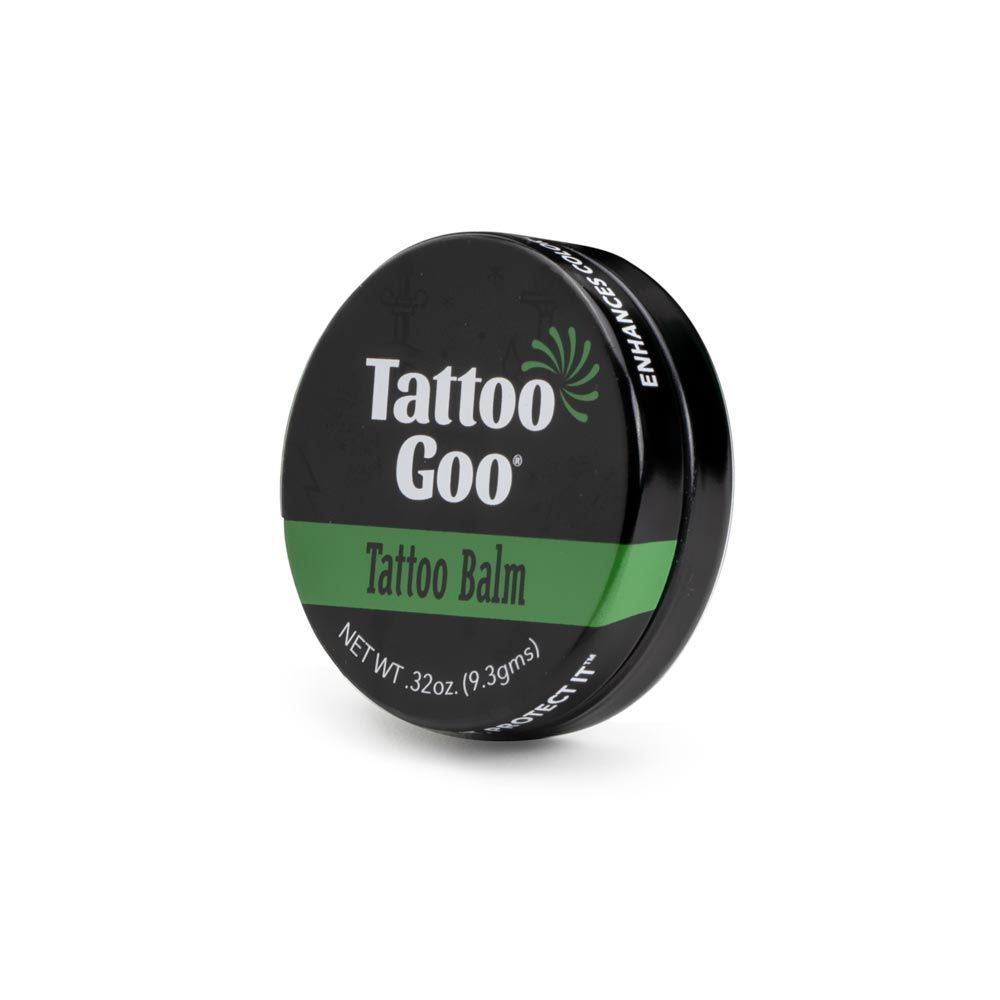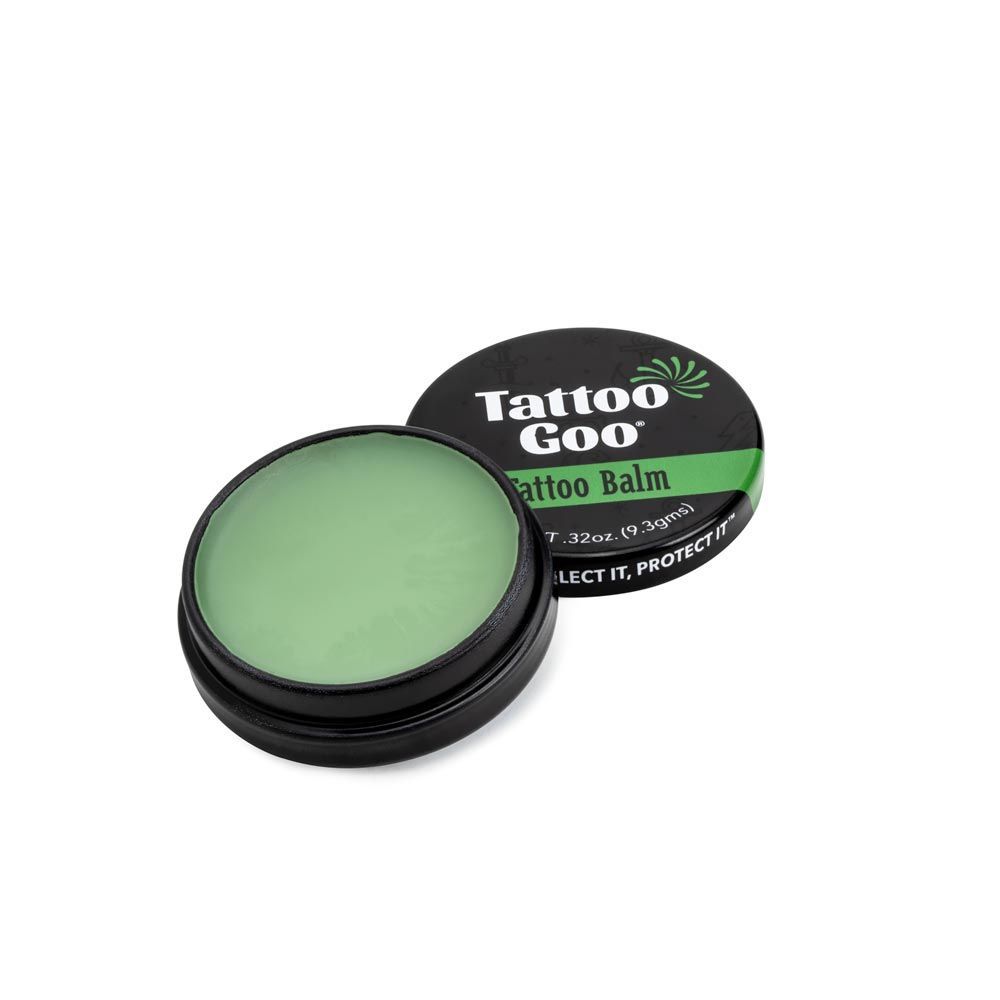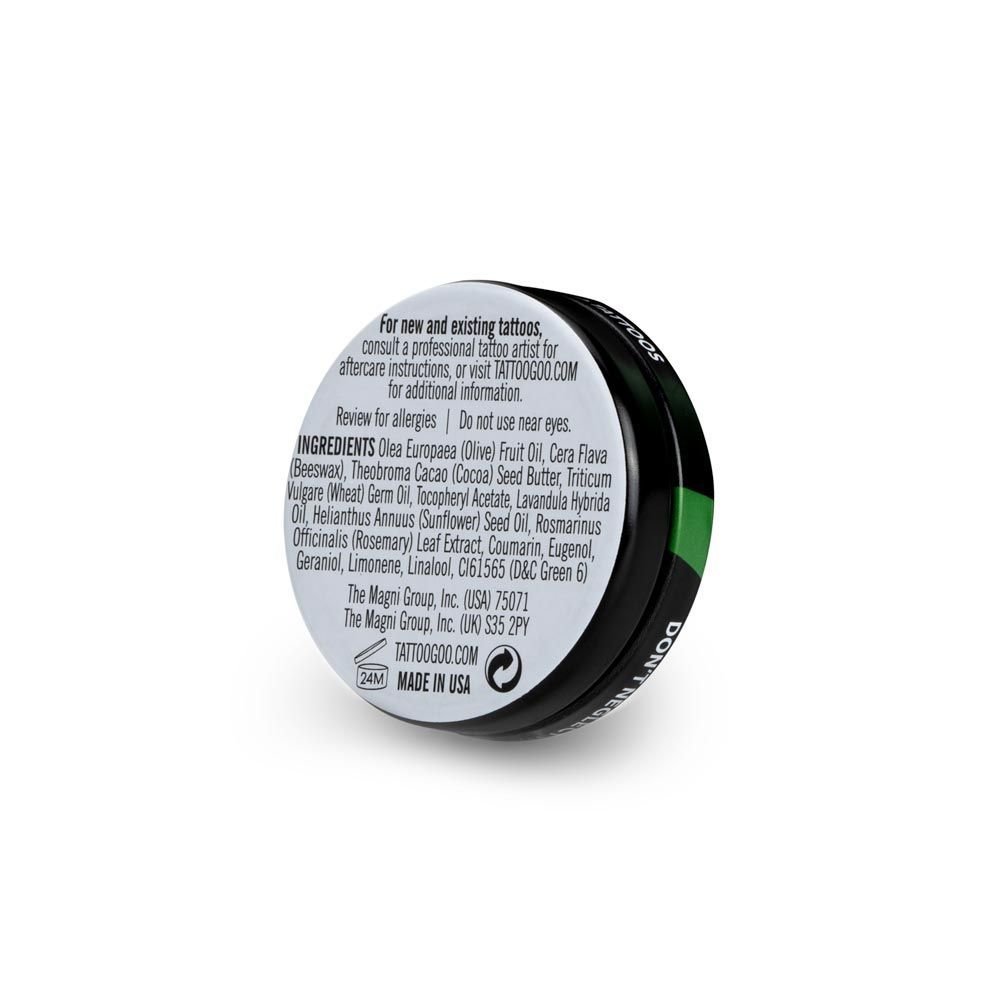 Tattoo Goo - Mini aftercare ointment
100 days return
100 day right to return for unopened merchandise
Same day handling
Orders that come in before 18:00 (Monday - Friday) will be sent out on the same day.
Product Name: Tattoo Goo - Mini aftercare ointment
SKU: Care-Tattoo-Goo
Type: Aftercare product
Content: 9,3 g.
Number of items: 1 piece
You can finally give your tattoo a good dose of care and love with the American Tattoo Goo ointment.
You can get this ointment in a small metallic tin, similar to vaseline tins, but this ointment is green and has a pleasant lavender perfume :)
Tattoo Goo is the best-selling product for piercing aftercare in the world. This ointment is 99% organic, and it doesn't contain any additive that can harm your skin, such as lanolin. This ointment has been specially developed for tattoo aftercare, and it meets the requirements of American and German laws, countries where it has been tested.
Its benefits include:
%99 organic product.
No harmful additives to health.
Contains natural antiseptics that fight infections.
Unlike panthenol products, this product does not contain lanolin, which can cause pore-clogging, allergies, and rashes.
Dermatologically tested product
Approximate sizes and weight:
Thickness: 1-9/16" (40 mm)
Height: 1/2" (13 mm)
Content: 0.33 oz (9.3 grams)
Ingredients:
Olive oil (soft lube that softens and moisturizes the skin)
Bee wax (natural product used instead of oil and lanolin)
Cocoa butter (vegetable oil derived from cacao that relieves abrasions, burns, and wounds).
Wheat germ oil (relieves abrasion, burn and wound inflammation)
Tocopheryl acetate (vitamin E that cures burns and abrasions)
Lavender oil (helps heal burns and reduces inflammation and itching)
Sunflower oil (moisturizing)
Rosemary extract (acts as tissue healing and prevents skin infections)
D&C Green #6 (Approved green color food additive that makes it look green)
Reminder: This ointment is indicated to use on tattoos, and the price contains one unit.
Reviews
Satisfait à 100%

La crème est vraiment super, je faisais une réaction allergique de mon ancienne crème qui me faisait pleins de petits boutons sur mon tatouage, du coup des que je l'ai reçu je l'ai appliquer matin et soir sur mon tatouage qui fait tout mon avant bras et en 2 jours d'utilisation je n'avais plus de petit boutons depuis mon tatouage est niquel et le pot ma fait un peu plus de 2 mois

Written by Alyss

Baume efficace

Baume efficace et à petit prix

Written by Willow

Super, ale je jí málo

Moc dobře voní a udržuje pokožku hydratovanou po dlouhou dobu, na rozdíl od jiných krémů pro tetování. Blbý ale je, že masti není moc, ale pokud si ji koupíte když je ve slevě... ;) Každopádně je to super alternativa a skoro 100% přírodní :-)

Written by Skywalker

Bun, dar recipientele sunt foarte micuțe

Acesta miroase minunat și menține pielea hidratată pentru o lungă perioadă de timp, în comparație cu atât de multe alte creme de îngrijire după tatuaj. Cu toate acestea, recipientele sunt destul de mici și nu par a valora atât, dar dacă acestea sunt ofertele acum ...;) Una peste alta, o alternativă bună, deoarece este o cremă aproape 100% organică :)

Written by Skywalker

Hea aga nii pisikeses topsikus

See on väga hea toode, hoiab naha niisutatuna ja lõhnab hästi, aga toodet on selle raha eest küll liiga vähe.

Written by Kattre

Jó, de kicsi a kiszerelés

Fantasztikus az illata, és sokáig hidratálva tartja a bőrt, főleg más tetoválás ápoló termékekkel összehasonlítva. De a tartó nagyon pici, és szerintem ehhez képes elég amgas az ára, de most akciós... ;) Egyébként jó alternatíva, mert 100%-ban organikus :)

Written by Skywalker