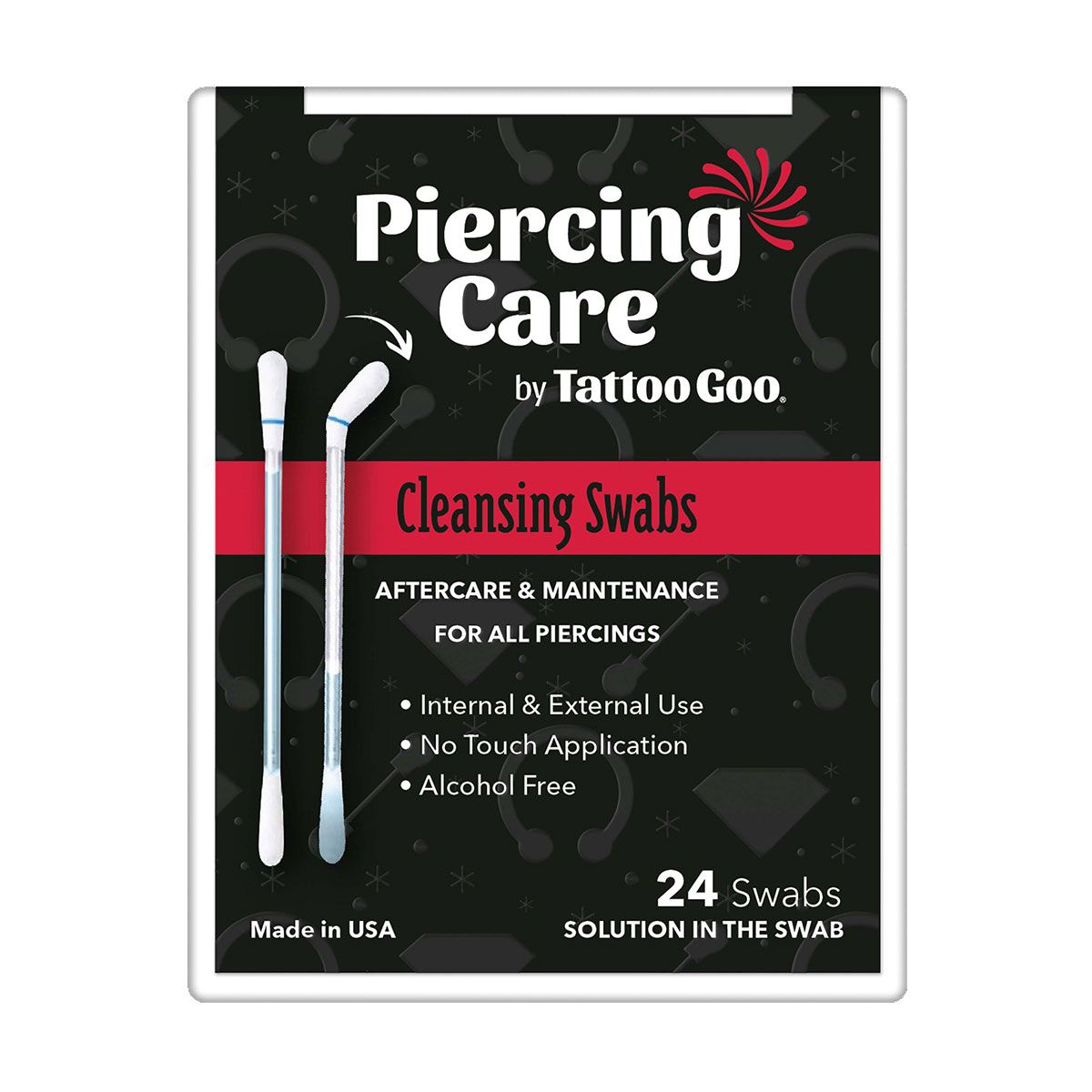 Cotton swabs with cleaning fluid
100 days return
100 day right to return for unopened merchandise
Same day handling
Orders that come in before 18:00 (Monday - Friday) will be sent out on the same day.
Name: Cotton swabs with cleaning fluid
SKU: Care-Swabs
Type: Aftercare product
Number of items: 1 piece
If your piercing is swollen or irritated, we have the solution to your problem. X-pressions cotton swabs, a product of the American brand Tattoo Goo, will help you take care of your piercing in an efficient way, especially if you're in a hurry. These swabs contain the perfect cleansing product, so you won't need to carry bottles or other containers.
It has the perfect size to carry it with you in your bag or your pocket.
Instructions to use Tattoo Goo X-pressions swabs:
Take a swab and put the side with the blue ring in the upper position.
Snap the blue-lined end of the swab.
Let the fluid flow down to the bottom and apply it on your piercing.
You won't need to do anything before applying this product, and you won't need to wash or cleanse your piercing afterward. If you need more product, we also have X-pressions in a bigger spray package.
This product has been dermatologically tested, so it's totally safe to use, both in external and internal piercings.
Some of its ingredients are Cetylpyridinium Chloride (CPC), an antiseptic agent, and Methylsulfonyl Methane (MSM) anti-inflammatory and reduces scars, and Cet-C, an antibacterial active ingredient.
One of the most used antiseptic product to cleanse piercings is a mouthwash, which contains alcohol. It can cause stinging in open wounds, and its taste can be unpleasant. X-pressions doesn't contain alcohol or sodium, and it has a very pleasant taste, which won't cause stinging or itching.
Reviews
Super

Jsou to velmi praktické vatové tyčinky. Fakt super nápad, pokud nechcete, aby se vám zanítil nový piercing. :-)

Written by Markéta

Bun

Sunt niște tampoane de bumbac bune dacă vă este teamă că va exista o inflamație a unui nou piercing. Singura chestie negativă e atnci cțnd vrei să le rupi - nu vei reuși mereu , iar alte ori se rup mai mai ușor.

Written by Madalina Gorea

Hea

Hea ja lihtne lahendus, kuidas oma augustust puhastada. Mina olen väga rahul, eriti kuna koguaeg kardan, et tekkib põletik :D

Written by Mirelle

Jó

Ez egy jó vattapálca, ha félsz hogy begyullad az új piercinged. Az egyetlen rossz, hog yamikor roppantani kell, nem mindig akar, és néha teljesen széttörik

Written by Michelle

Bien

Je trouve que c'est un tres bon produit si vous avez peur d'avoir des infections dans votre nouveau piercing. Le seul truc qui est moins bien est le fait que lorsquil faut le cassé.

Written by Michelle

Super fornøyd

Veldig bra!

Written by Michelle