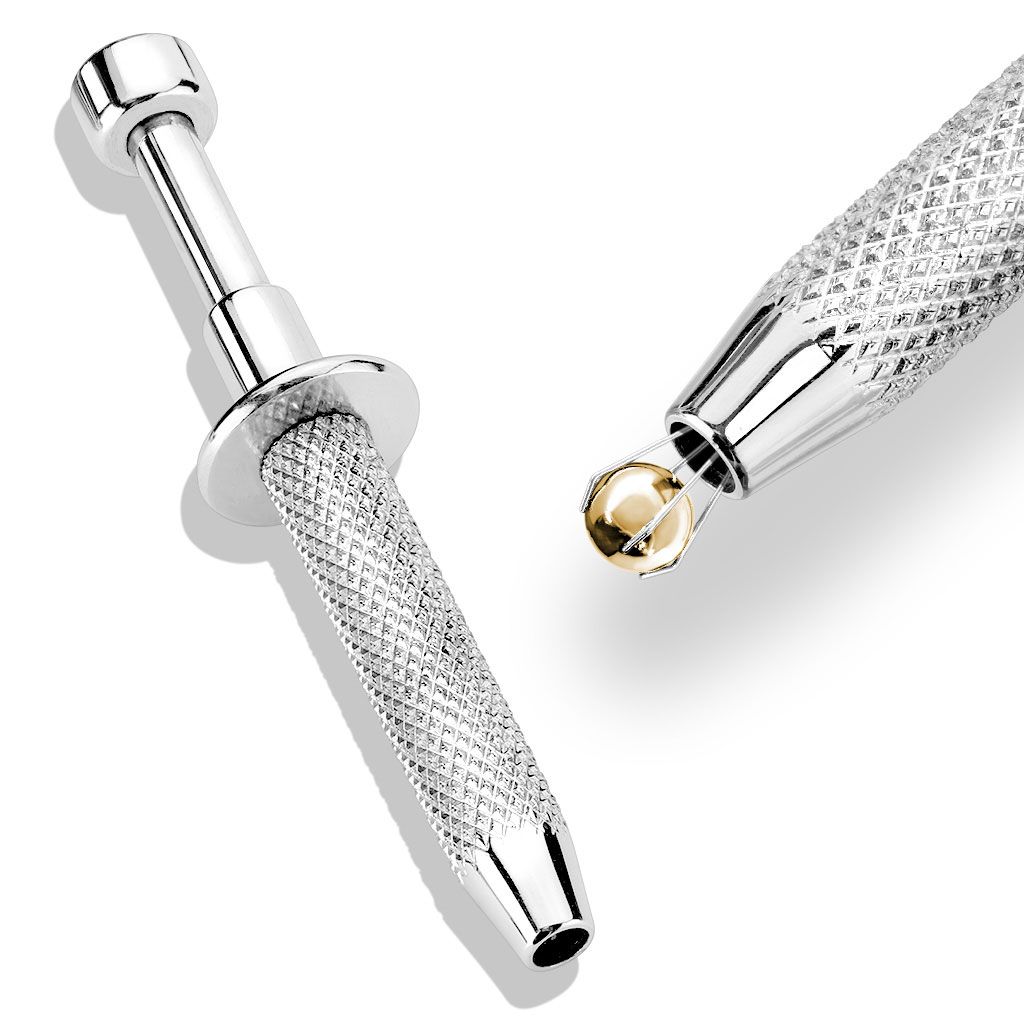 100 days return
100 day right to return for unopened merchandise
Same day handling
Orders that come in before 18:00 (Monday - Friday) will be sent out on the same day.
Product Name: Ball holder
SKU: Tool-17
Type: Tool
Material: Stainless steel
Color: Silver
Number of items: 1 piece
We all know how difficult it is to grab the small balls of piercing jewelry, and when they fall, it's impossible to find them. With this smart tool, that won't be a problem anymore. This tool has four prongs that work like small tweezers that open from the opposite edge, just like a pen. It's important to place the hole or the screw of the ball outwards, otherwise it will be impossible to screw the ball into the barbell.
Remember that this tool will only help you grab or hold balls and screw them into a barbell, ring, or shaft. You won't be able to press tightly with this tool, but once you have placed the ball into the barbell, you will be able to tighten it up with your fingers.
Recommended to use for balls between 1/8" and 1/4" (3 and 6 mm).
Reviews
Uzgaļu turētājs

Tas ir lielisks rīks, it īpaši, kad vajag turēt mazas bumbiņas vai dzeloņveida uzgaļus. It īpaši ar manām vienmēr trīcošām rokām. Manuprāt, tas ir viens no noderīgākajiem rīkiem visā industrijā. Iesaku!

Written by Olga

Pīrsinga uzgaļu turētājs

Šis turētājs ir super! Ļoti labi tur arī mazās bumbiņas

Written by Ļoti labi

pro uchopení kuliček

fakt zjednoduší nasazení kuliček

Written by Mates

spokojenost

Tento nástroj usnadňuje uchopení malých kuliček a hrotů, které se jinak velmi těžce chytají prsty. Doporučuji. Stojí za malou investici.

Written by Hana

Super

Este super merge mai ales la bile mici și țepi. Pot fi recomandate

Written by Anna22

suport bile

Sunt chiar super mai ales pentru bilele mici

Written by X