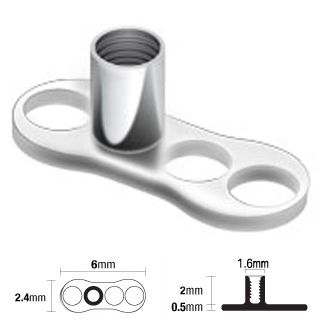 Dermal anchor base titanium made
100 days return
100 day right to return for unopened merchandise
Same day handling
Orders that come in before 18:00 (Monday - Friday) will be sent out on the same day.
Product Name: Dermal anchor base titanium made
SKU: Dermal-32
Thread thickness: 1.2 mm (It fits 1.6 mm dermals)
Type: Dermal base
Material: Titanium
Color: Silver
Number of items: 1 piece
Here you'll get a solid dermal anchor base of the best quality. It's made of titanium, which is entirely nickel-free, as well as the purest metal available. For piercing use, titanium is always the safest choice.
Additionally, the base can be placed in autoclave bags right after going through sterilization so that you can always be sure it's sterile before inserting it under your skin.
As a professional piercer, you may also enjoy our dermal anchor assistant tool, which looks like a little shoehorn tool, that makes it easier to fit a dermal base into a new piercing hole.
Reviews
Mikrodermál

Všechno 100 % tak, jak by mělo být.

Written by Anna

Ancoră dermală

Este 100% așa cum trebuia să fie.

Written by Camelia Ank

Dermal anchor

See on 100% täpselt selline nagu olema peab.

Written by Annika

Dermal anchor

Pontosan olyan, amilyennek lennie kell

Written by Anika

Ancre dermal

C'est 100% comme il se doit.

Written by Anna

Dermal anchor

Den er 100 % som den skal være.

Written by Anika