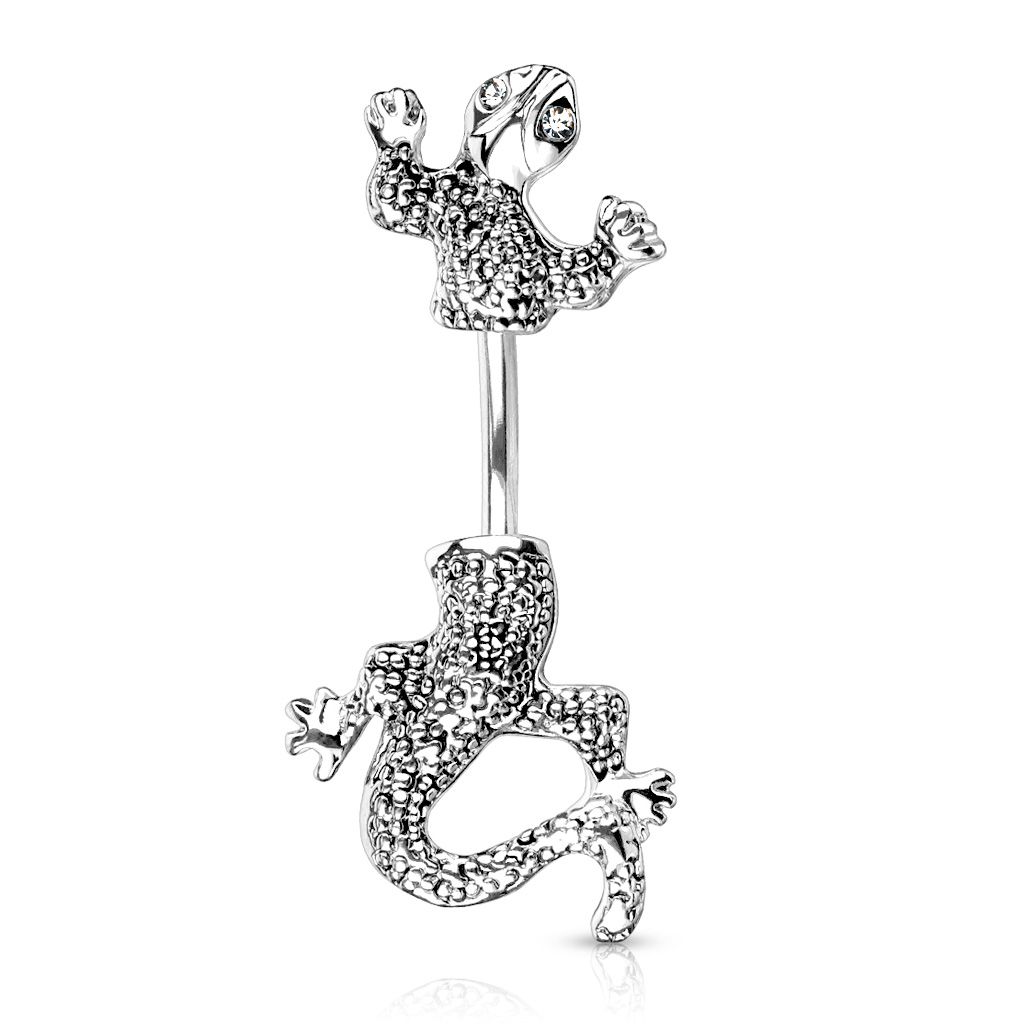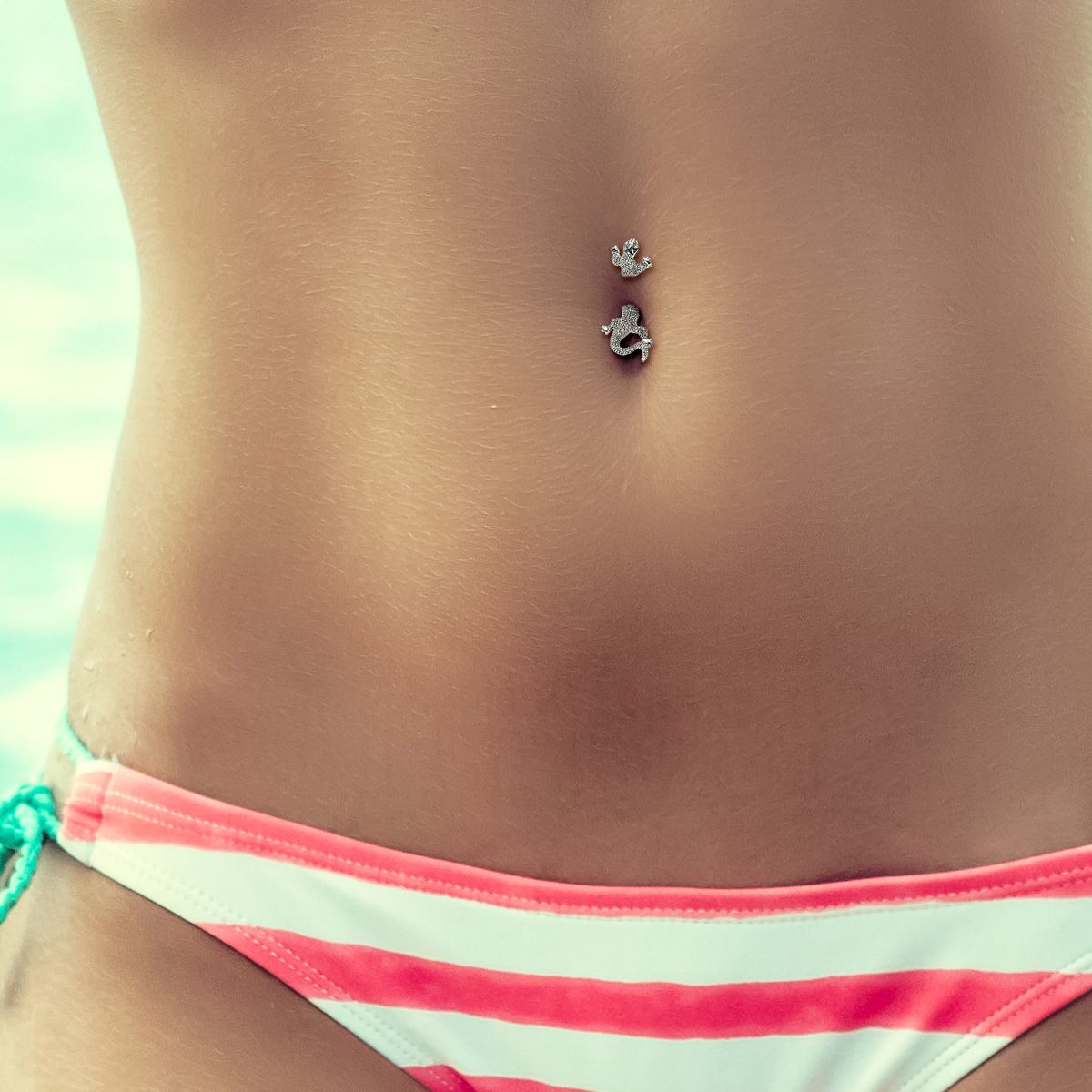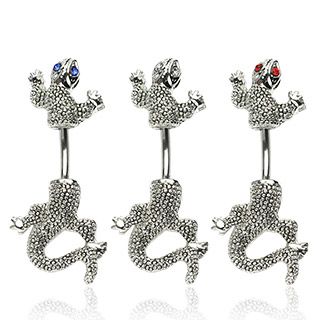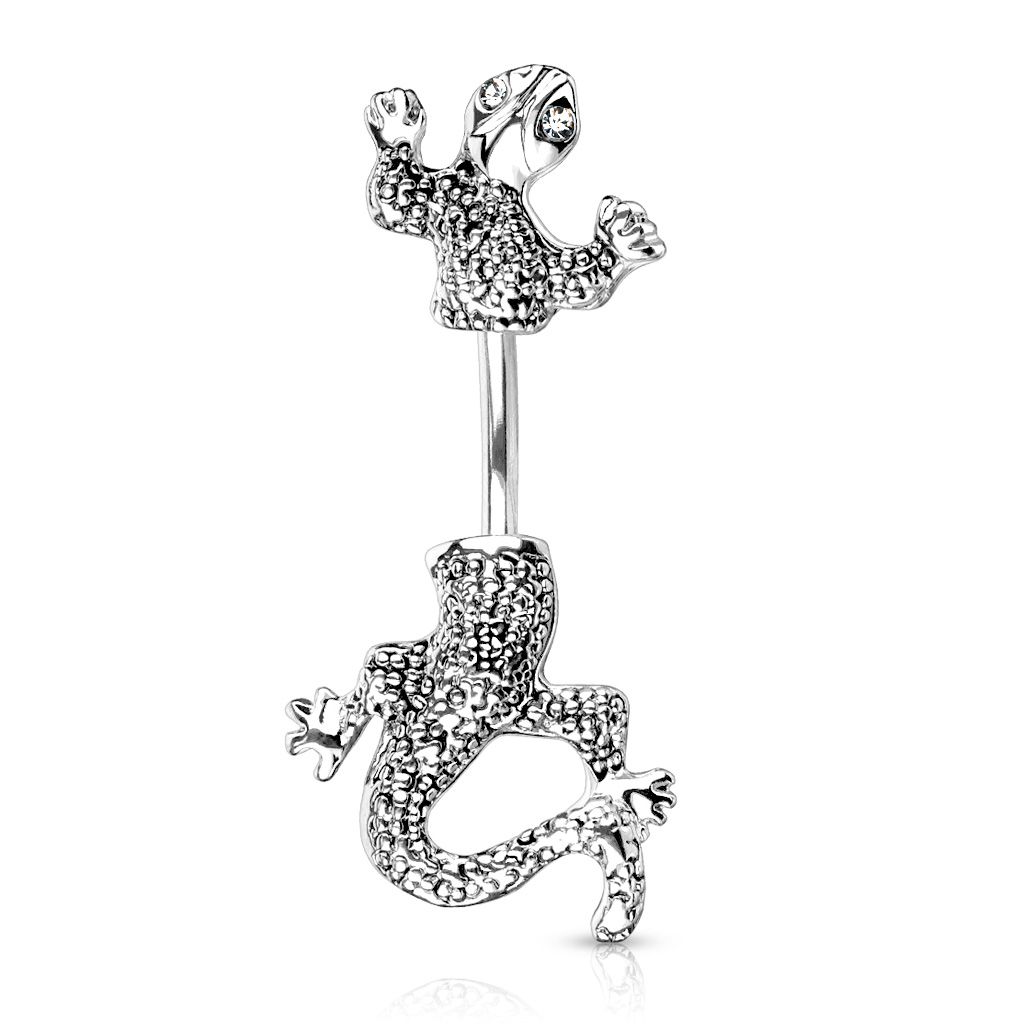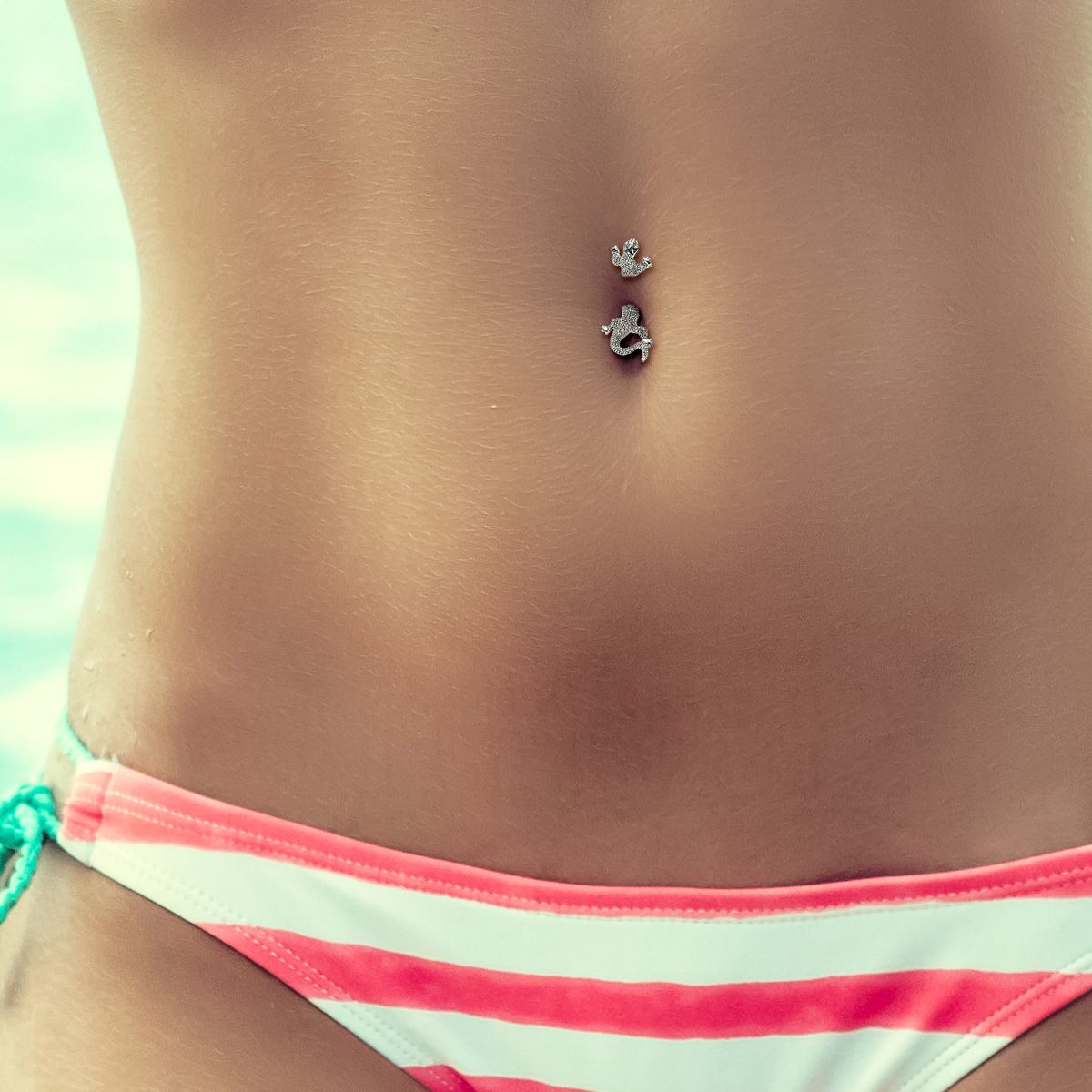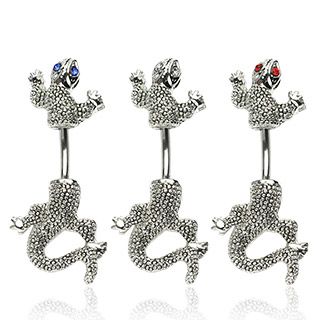 Belly button ring with lizard

100 days return
100 day right to return for unopened merchandise
Same day handling
Orders that come in before 18:00 (Monday - Friday) will be sent out on the same day.
Name: Belly button ring with lizard
SKU: Belly-216
Thread thickness: 1.6 mm
Lock type: External thread
Type: Belly barbell
Placement: Navel
Length: 10 mm.
Material: Surgical steel
Is the item glued?: Yes
Number of items: 1 piece
Design: Lizard
Is the jewelry coated?: Yes, the balls
Total length: 34 mm.
Do you like exclusive jewelry? Then you will love this incredible belly button ring! It's made of surgical steel, and it has the shape of a sexy lizard. The bottom part of the lizard's body is part of the bottom ball, while the top ball is the top of the lizard. Besides, it has several details that make this belly ring unique, like scales and claws.
This small lizard also has beautiful eyes that you can choose between blue, red, or white. They're two gems cut from different angles that create a fabulous contrast with the rest of the belly ring, especially the red eyes.
Buy this small lizard for your belly piercing today. Your new jewelry will make a difference without a doubt!
Reviews
Nem rossz.

Nekem kifejezetten tetszett, addig amíg a színe el nem kezdett kopni. Ha valaki rendszeresen hordaná, nem csak egy-két alkalomkor, akkor erre számítani kell.

Written by Janka

Kouzelný piercing - dobrý zákaznický servis

Každý piercing byl zabalen zvlášť a služba byla všeobecně velmi dobrá. Piercing je takový, jaký vidíte na fotce. V pupíku vypadá fakt velmi dobře a vše je v pořádku tak, jak má být. Doporučuji tento piercing těm, kteří mají rádi ještěrky, ale pokud má někdo pochyby...určitě si tento piercing kupte, zaručuju vám, že se vám bude líbit!

Written by Karo

Cel mai drăguț piercing - livrare perfectă

Bijuteria a fost ambalată într-o pungă sigilată și livrarea a fost rapidă și impecabilă! Bijuteria se potrivește cu imaginea de pe pagină, deci atunci când este livrată, veți fi plăcut surprinși. L-am primit într-o stare perfectă și e o bijuterie foarte frumoasă care stă așa cum ar trebui și se închide așa cum ar trebui. De recomandat celor care sunt impresionași de strălucirea lui dar inca sceptici. CUMPĂRAȚI-L! Chiar sunt nerăbdătoare să vă fac fericiți! :)

Written by Ivona27

Lahe neet - kiirelt sain kätte

Ehe oli ilusti pakitud ning tarne oli kiire ja laitmatu. Ehe näev välja selline nagu pildil, nii et oli meeldivalt üllatunud. Nii et ja näeb hea välja ja kinnitus on ka hea. Soovitan teiselegi, mida te ootate, see on mega lahe :D

Written by Katarina

Nagyon cuki piercing - tökéletes kézbesítés

Az ékszer lezárt csomagolásban volt és gyorsan megérkezett, kifogástalan volt! Maga az ékszer pont olyan mint a weboldalon lévő képen, úgyhogy amikor megérkezett pozitív meglepetés volt. Tökéletes állapotban volt, nagyon szép, úgy áll ahogy kell, és úgy zárható ahogy azt kell. Csak ajánlani tudom azoknak akiknek tetszik, de enm biztosak benne hogy nekik való e, VEDD MEG! MEgeszem a kalapom ha nem fog tetszeni! :D

Written by Katrine

Piercing super mignon et livraison rapide

Les bijoux etait mit dans des différents sachet et la livraison etait super rapide et impeccable! LE bijou en lui meme est vraiment beau et encore mieux que sur la photo et vous etes bien surpris. En tout cas c'est vraiment parfait et c'est un tres beau bijou qui s'ouvre et se ferme comme il doit. Je peut que recommandé ce petit bijou et meme si vous etes sceptique vous pouvez faire confiance et achetez le :D

Written by Catherine