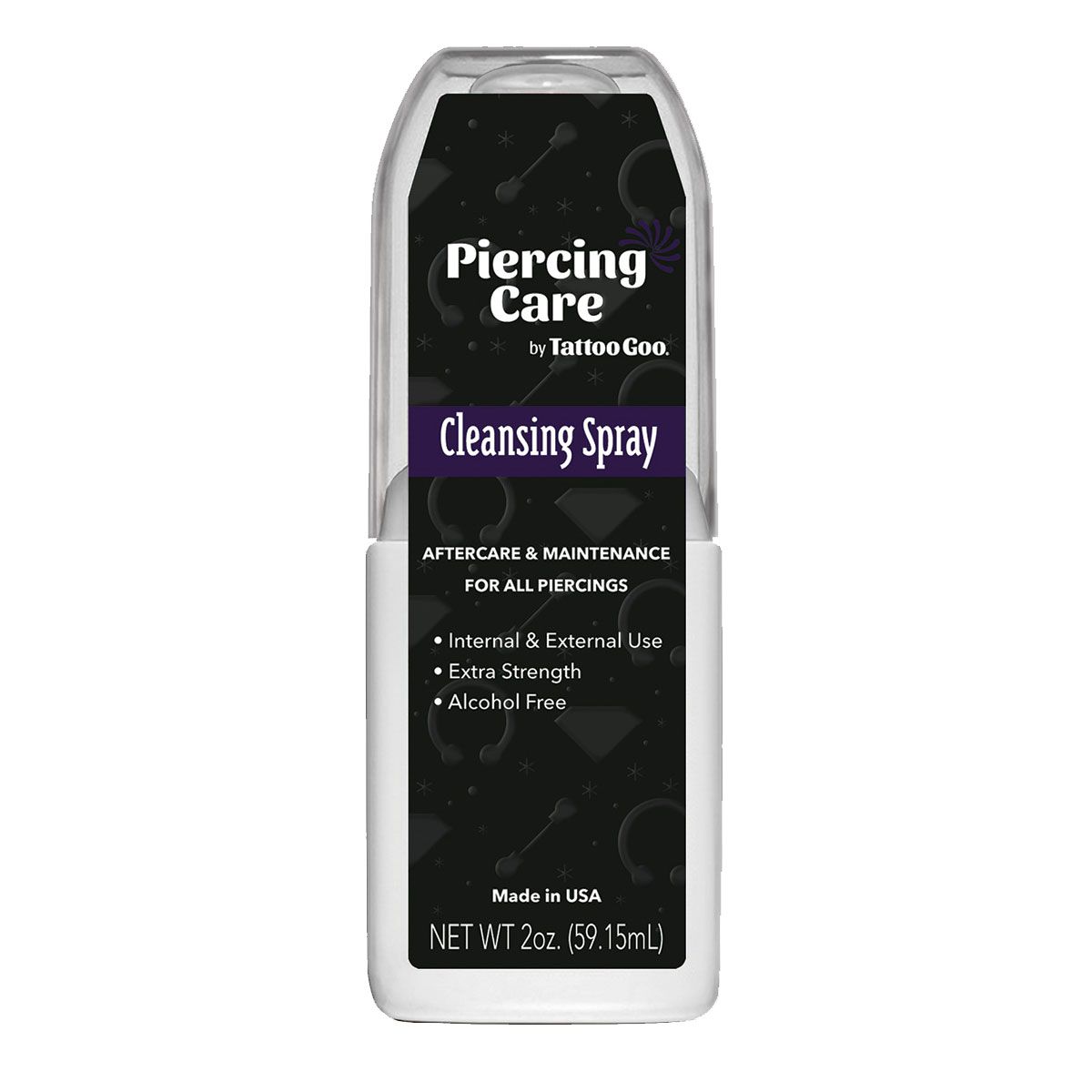 Piercing aftercare - All in one
100 days return
100 day right to return for unopened merchandise
Same day handling
Orders that come in before 18:00 (Monday - Friday) will be sent out on the same day.
Name: Piercing aftercare - All in one
SKU: Care-X-Pressions-Spray
Type: Aftercare product
Content: 59 ml.
Number of items: 1 piece
With this miracle product from the American brand Tattoo Goo, you can fight the swelling and the pain that irritated piercings may cause.
This product contains an all-in-one cleansing liquid that will make your piercing as good as it used to be. Its formula contains antiseptic and antibacterial agents that will soften the pain and relieve dryness, swelling, and infection.
You can also use this product for tongue piercings. It has a pleasant mint taste, so don't worry at all.
We name this product all-in-one because you won't need to use it in combination with any other product.
Instructions to use Tattoo Goo's Xpresions spray:
Apply the spray on the area once or twice a day.
If you cleansed your piercing with saline water, avoid using this spray until 3 hours have passed.
Use it maximum four times a day.
Do not ingest.
This product is also available in a smaller package, especially practical if you have to take it with you everywhere. You can also find cotton swabs with cleansing liquid in our online store. Check it out.
This package contains 2 fl oz (59 ml), as much as our isotonic saline water.
Reviews
Et must for alle med piercinger

Sliter med at jeg lett får infeksjoner i brusk-piercingene mine, men denne vasken stopper det før jeg må til med antibiotika. Bruker den kun i perioder når jeg ser de hisser seg opp, da jeg føler vanlige (pyrisept/saltvann) gjør rensejobben bra nok ellers. Lukter i tillegg nydelig

Written by E

Enkel å bruke, men ikke allergivennlig!

Jeg har ny navlepiercing, og kjøpte denne sprayen etter å ha lest produktbeskrivelsen og omtalene fra andre kunder her som skriver varmt om den. Jeg fikk derimot en allergisk reaksjon i form av rødt, kløende, prikkete utslett rundt og inni navlen og sliter nå med å bli kvitt dette. Derav gir jeg den 2 stjerner i karakter da den er enkel i bruk, men utløste en allergisk reaksjon hos meg. Så jeg vil dermed ikke anbefale den videre.

Written by Malin

Perfektní produkt

Velmi praktický sprej, který se dá rychle použít. Je super, protože se piercing nemusí před použitím umývat, i když je to lepší. Je super ho mít po ruce, pokud máte nový piercing.

Written by Copycat

Fantastický produkt

Velmi lehce se jako sprej používá, všimla jsem si zlepšení již po pár použitích. Pomáhá zmírnit bolest a zarudnutí.

Written by Julie

Super!

S tímto sprejem je umývání piercingu hračkou. Již po prvním použití je můj helix piercing méně začervenalý a méně bolí. Všichni co mají nový piercing by si tento sprej měli koupit!

Written by Natka

Velmi efektivní

Použila jsem tento sprej pro můj snakebite, medusa piercing a labretu a bylo to velmi snadné, účinné a čisté.

Written by Anďa